Back to Blog
King's business school acquires prestigious membership
Nov 16, 2017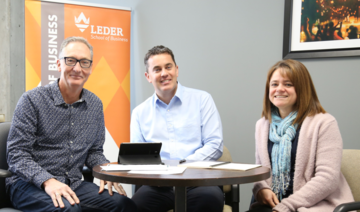 The King's University is pleased to announce that its Leder School of Business is now a member of The Association to Advance Collegiate Schools of Business (AACSB).

Membership in the AACSB is important to Leder School of Business Dean Ryan Young. "This signifies the intentions of the business school to pursue the highest quality of business program we can."

In addition to directly connecting with top business educators and industry leaders from nearly 100 countries, the Leder School of Business now has access to comprehensive data and reports that enable it to benchmark against local, national, and international business schools. The long-term goal is to achieve full accreditation, which will put the business program in the top 10% internationally.

Young explained that the membership reflects "a commitment from all of our faculty and staff to ensure that our business program remains current, relevant, and competitive in today's rapidly changing global environment."

AACSB International is a global association of leaders in education and business dedicated to supporting and advancing quality business education worldwide. Through membership, accreditation, research, thought leadership, professional development, and advocacy, AACSB partners with over 1,500 organizations, from more than 90 countries globally.

Visit the AASCB website for more information.