Back to Blog
The King's University lands $500K government research funding
Nov 08, 2017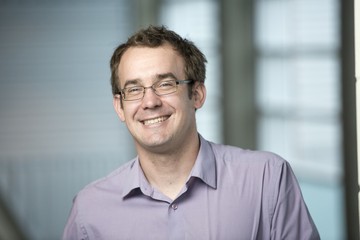 The King's University is pleased to announce its first Canada Research Chair (CRC), recently awarded to Dr. Neal DeRoo by the Government of Canada. The Canada Research Chairs Program ensures that outstanding minds are working (and developing students) in the Canadian university system. To this end, a grant of $500,000 over five years will support DeRoo's appointment as chair in phenomenology and philosophy of religion.
"The CRC is first and foremost a recognition of the top-quality scholarship that goes on at King's across the faculty," said Dr. Hank Bestman, Vice President Academic and Research. "Institutions qualify for a CRC only when they have met certain thresholds of federal research funding. A research chair award demonstrates that the Government of Canada's granting agencies recognize that King's is doing top-quality, world-class scholarship."
DeRoo's research focuses on providing a philosophical basis for a new understanding of how religious commitments can be expressed in everyday life. He suggests that this could change the role we think religion should play in our pluralistic society. 
"I think continued, deepened explorations of King's approach to religion—that it is about all of life, not just some parts, and that our relation to God should drive everything in our lives, not be restricted to a few things we believe and a couple of things we do on Sundays—will help our students wrestle with what it means to be a follower of Jesus Christ in everything they do," DeRoo said. "This research project is meant to help form a hub of people thinking about issues related to religion (especially Christianity) and its application in every part of our lives."
One reviewer of DeRoo's research chair application commented, "In terms of breadth, depth, and impact, I think it is correct to judge DeRoo's work as that of an excellent, emerging, world-class scholar. His work is on an important contemporary topic, the work involves top-quality scholarship, it is deep in its implications, and it already has more international exposure than one would typically expect from a scholar at this level."
Another reviewer said DeRoo's work "shows a profound originality and creativity when it comes to the themes and topics under consideration." That reviewer also noted, "His book Futurity in Phenomenology is the best text available on the topic (as is his edited volume Phenomenology and Eschatology). … His ability to cross between philosophy and theology makes him someone who is not only able to find traction in the academy, but also in the church. This is a crucial skill and one that is much needed in philosophy of religion today—which often risks becoming dangerously disconnected from the historical concerns of religious people and communities."
DeRoo is looking forward to the time this award will allow him to devote to his research and writing, as well as to the increased ability to disseminate his research that will come with the Canada Research Chair position. "This is not only a benefit to me, but to all of King's. Since the topic of my research is how we show our religious commitments in our everyday lives, the more disseminated this research gets, the more the holistic vision of Christian living that King's embodies in its mission and vision will be exposed to broader audiences in Canada, the United States, and around the world."
DeRoo earned his PhD in philosophy from Boston College and his master's degree from the Institute for Christian Studies.
The King's University, in Edmonton, Alberta, is a Christian liberal arts and sciences university in the Reformed tradition, offering bachelor degrees in the arts, social and natural sciences, commerce, and a two-year Bachelor of Education after degree. King's seeks to inspire and equip learners to bring renewal and reconciliation in every walk of life, and to help build a more humane, just, and sustainable world.