Back to Blog
The King's University Blood Drive
Oct 24, 2016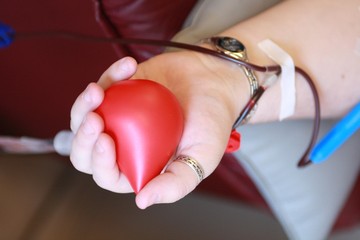 Recently The King's University was approached by Canadian Blood Services (CBS) to rally students, staff, faculty, and supporters of The King's University to donate blood. In light of the current need for blood donations and our community values of compassion and social justice, The King's University is now a Partner for Life (PFL) with CBS.
People of all walks of life need blood products. Some need it to get through serious events in their lives like cancer, heart surgery, or a car crash. Others have medical conditions that mean they will need blood products regularly to stay alive or be healthy. Our community's blood donations will go directly to helping people in need. 
HOW YOU CAN HELP
STEP 1:
You can take the first step toward helping RIGHT NOW.  In order to join The King's University Partner for Life (PFL) team, each donor must Register Online using our PFL code (KING000439).

Once you have registered this code, each time you give a unit of blood our King's team will be given credit. We'll track this number and try to annually increase the donations of blood coming from our community. We're aiming for over 100 donations this year. Please pass this information along to friends, family, alumni, and others who may want to join our team! You don't need to be in Edmonton, participation is available nationwide!
STEP 2:
Make sure you can currently give blood. You are now registered for the team, but if you have travelled to particular countries or recently gotten a tattoo or piercing you may need to wait to donate. Find out limitations on travel deferrals and other common deferrals to make sure you are eligible.
STEP 3:
Sign up to give blood! Remember that each donor must register online under the PFL number as per above before they donate in order for the credit to go towards Kings. On October 25th there will be a nearby blood drive at the Ledcor Clinic (7008 Roper Rd., NW). We have reserved ten spots for members of the King's community starting at 12:00 pm.  If you would like one of these spots (and a ride there and back!) contact Dr. Michael Feber to be added to the list.
You don't need to contact us to go and give blood at any other time, and we hope you and friends in your networks will consider doing this regularly. You can also search for blood clinics near you.
STEP 4:
Stay inspired and keep donating! Here are a few videos to highlight some personal stories of how important it is to donate blood. 
QUESTIONS?
If you have questions please contact Dr. Michael Feber, the primary liaison between The King's University and CBS for this partnership.