Back to Blog
The Sustainability Tracking, Assessment & Rating System™ (STARS)
Aug 25, 2016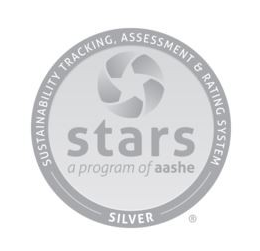 The King's University is a registered participant in The Sustainability Tracking, Assessment & Rating System™ (STARS) a rating system that measures sustainability in colleges and universities. King's has received a Silver Rating in recognition of its sustainability achievements from the Association for the Advancement of Sustainability in Higher Education (AASHE).
AASHE's STARS program is the only one of its kind that involves publicly reporting comprehensive information related to a college or university's sustainability performance. Participants report achievements in three overall areas: 1) education & research, 2) operations, and 3) planning, administration & engagement.

King's was featured in the winter 2012 issue of the STARS Quarterly Review.