Back to Blog
What's new at King's?
Sep 06, 2017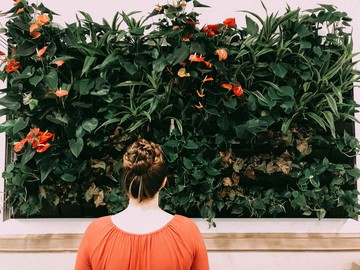 Are you curious about new faces around campus and what's changed over the summer? Take a look at what's new this year at King's!
Campus upgrades
Green Wall

You may have noticed our walls are a little more leafy! The green wall on campus, a grad gift started by the graduating class of 2016 and funded by students, alumni, and the King's community, was installed on August 14. Not only do the greens and flowers look spectacular, the plants act as natural air filters.

New Roof

The Library and central academic building received funding to re-roof, thanks to an investment from the Government of Canada. "The Government of Canada has extended the project to include re-roofing the fine arts building, plus additional solar panels," said Ellen Vlieg-Paquette, Vice President Administration and Finance. "This work will help King's achieve greater energy efficiency and sustainability." The King's University will also install solar panels to generate energy for its own use and to reduce its consumption of on-grid energy.

Harvesting daylight


Rather than drawing on electricity all day long, new pendant lights have been installed in the North Academic Building lobby that rely on "harvested daylight." The lights are on a photo sensor that turns them off during the day and triggers them to come on as it gets dark outside. 

LED retrofit in the gym


A total of 150 LEDs are going into the gym to lower our energy costs. Assuming the lights are on for an average of 15 hours per day, we will save $2,135 over a year as well as reducing carbon dioxide C02e.
Who's new at King's?  
Allen Verbeek, Enrolment Management and Registry

Allen is the Associate Vice President of Enrolment Management and Registrar. He is also the chair of the Senior Student Services Officers in Alberta, and a member of the Alberta Registrar's Association.

Amy Whitesell, Alumni relations

Amy Whitesell is the Alumni Relations Administrative Coordinator and a 2017 King's graduate. She earned a Bachelor of Commerce degree and was a captain of the women's basketball team as well as president of the Leder Business Association. She is in charge of planning events and communicating with alumni and parents.

Catherine (Cat) Welke, Biology

Cat is a King's alumna, and is the organismal biology lab coordinator. She has a deep love of God's creation, focusing particularly on winged creatures.

Courtney Radatz, Enrolment Management and Registry

Courtney is an International Admissions Counsellor and King's alum. She graduated with a Bachelor of Commerce degree. 

Corinne Knop, Enrolment Management and Registry

Corinne is the Student Records Coordinator and knows many members of King's community.

Danielle Brosseau, Psychology

Danielle is a professor of psychology and a King's alum. She recently moved back to Edmonton with her family from Montreal and McGill.

Dinky Esmorion, Facilities

Dinx is a new custodian on The King's University campus.

Jenna Sparrow, Conference Services

Jenna is the Interim Campus Events Services Manager.

Lindsay Eckert, University Relations

Lindsay is the Communication Coordinator, collecting and sharing King's stories. She has a bachelor's degree in professional communications from MacEwan University and loves a fantastically written sci-fi/fantasy book, playing video games, and writing her own fiction.

Lynnell Prediger, Education

Lynnell is the Education Coordinator. Her job entails administrative support for the department, event planning, and program promotions. She has a Bachelor of Theology from Newman Theological College and has taught public speaking with the Christopher Leadership Course. Her claim to fame is that Jimmy Fallon read one of her tweets on the Tonight Show (#WorstSummerJob) (it wasn't at King's)!

Michael Fox, IT

Michael is the Systems Support Analyst. He has been doing computer programming and support since 1995, specializing in database programming and integration. His off-work time is spent between photography expeditions with his wife and music.  Carol and Michael have been called "escapees from the Disney factory" and come with a warning label for diabetics. His secret wish is to be the washtub bass player in a Gospel-Jug-band, so if anyone knows of an opening…

Ram Ramachandran, IT

Ram is our Systems and Network Administrator. Ram provided systems and network support in Fort McMurray, Portage College in Lac La Biche, and in Drayton Valley.

Sara Grimm, Library

Sara is the Library Assistant and a recent King's graduate. She previously worked with the Library as a student assistant.
Continuing Education courses
King's created three continuing education courses. Starting this fall are Christian Ethics, Film and Literature, and Mathematical Reasoning for Teaching. These classes are open to both King's students and the general public.
New Sociology degree
A new four-year bachelor of arts degree in sociology was approved by the Deputy Minister of Advanced Education, effective July 1, 2017. "The addition of a fourth year enables us to help students develop more in-depth understanding and research-related skills so they are better prepared for studies or work after graduation," Professor of Sociology Dr. David Long explained. "It marks a new stage in continuing development of The King's University's strength in community engagement."