Fall Retreat
Countless students before you started their time at King's with the annual fall retreat at beautiful Camp Nakamun. This camp will bring you some needed time of relaxation, fun activities, and most importantly, getting to know your fellow students and King's staff. We can't wait to hang out with you! 
Fall Retreat Dates:

Friday, September 15 - Sunday, September 17, 2017


We leave at 5 p.m. on Friday and return around 1 p.m. on Sunday. You must sign your waiver form before boarding the bus.


Registration opens on Friday, September 1, 2017


You have already paid for the Fall Retreat through your Orientation Fee but you must register to attend.

Register for UNIV065A and fill out your waiver form via your Online Services
 What happens at the Fall Retreat?
There are some organized activities, but mainly, we hang out have lots of fun. The emphasis is on building friendships and getting to know staff and student leaders as well as other students in a beautiful, chill setting. Here are a couple of highlights: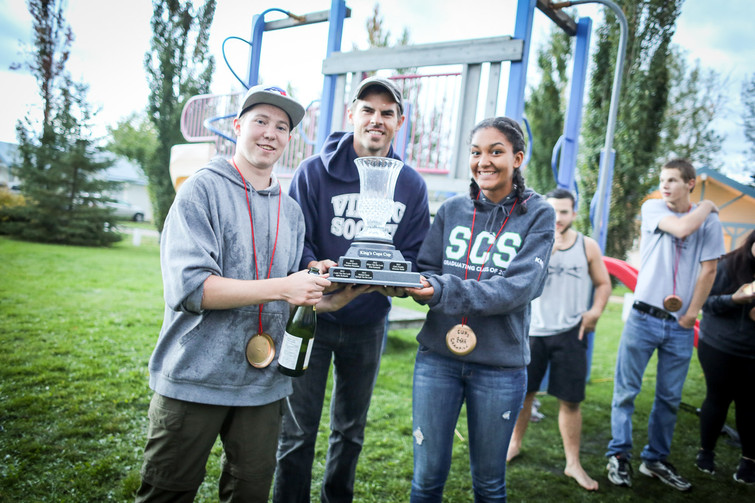 The Annual Cups Tournament
Take four plastic cups, four sticks, and a couple of frisbees, and you got yourself an outdoor game that EVERYONE can participate in. Never touched a frisbee in your life? No worries. No skills are needed. It's all about community building and taking part, and the finale is always intense with a lot of cheering and laughing!
Maybe, just maybe, you will see our President, Melanie Humphreys, our Vice-President, Michael Ferber, and our Student Success Coordinator, Kristin Lemke, brave the heights like they did last year!
Don't miss out.  Remember, your Orientation Fee (that you have already paid) covers the cost of the retreat and transportation is free. The Registration Deadline is Wednesday, September 13, 2017. Register by adding UNIV 065A to your Fall course registration through your Online Services.