Now Accepting American Students For 2018-2019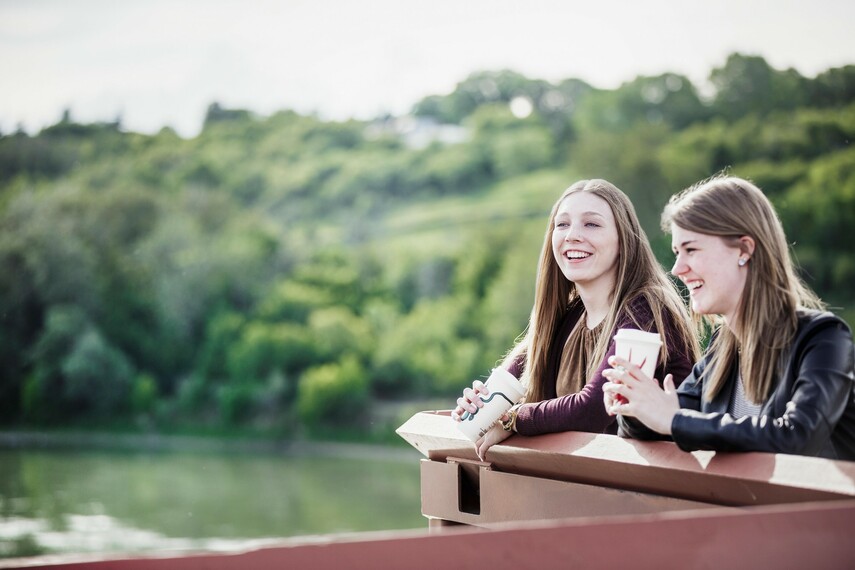 We are excited you are considering applying to The King's University! By choosing King's, you will study at one of Canada's top-ranked Christian universities. King's has a vibrant, multicultural campus community and rigorous undergraduate scholarship and research. King's consistently ranks high in student satisfaction, quality of education, professor-student engagement, and more. According to a recent survey, 97% of students were satisfied with their decision to attend King's. 
King's offers both quality and affordability in comparison to Christian universities across the United States and Canada. You'll be able to study with world-class professors for 1/3 to 1/5 of the cost of comparable U.S. universities, and you'll have opportunities to participate in research alongside faculty, unlike at larger universities where graduate students take priority.
We love having our American students on campus, and King's is distinct in that it offers international students the same tuition rate as domestic students. This means a full-time American student can expect to pay approximately $9,200 USD in tuition per year before scholarships and financial aid.
Important information for U.S. students
Applicants must present five distinct Grade 12 (senior year) subjects, including English and any program-specific pre-requisites, with a minimum average of 60% (equivalent to a grade of a 'C' in the Alberta high school education system). Additionally, applicants who completed their high schooling in the USA will need to submit SAT or ACT exam results:
An SAT written before March 31, 2016 must have a minimum overall score of 1500 with at least 400 in each section.
An SAT written after March 31, 2016 must have a minimum overall score of 1100 with at least 550 in each section.
An ACT must have a minimum overall score of 20 with at least 20 in each section.
Living on campus is not a requirement for first-year students, but King's does offer two residence options for new students: the Tower Rooms and the Tower Suites. New students who apply and pay their residence deposit of $500 by June 15 are guaranteed a spot in the Tower rooms (double occupancy)!
King's does not increase tuition rates for American students. This makes it very affordable to earn a degree from a top-ranked Canadian university. Taking into account the current exchange rate, a full year of tuition at King's is approximately $9,200 USD.
All applicants are eligible to receive automatic admission scholarships based on SAT or ACT results:
$1,000 Honours Scholarship: SAT combined average of 1900 or higher or ACT score of 28 or higher.
$2,000 Excellence Scholarship: SAT combined average of 2100 or higher or ACT score of 31 or higher.
Additionally, King's offers competitive, application-based awards through the Scholarships & Awards Application, available each year from February 1 to March 31. Awards are based on program, year of study, and financial need.
King's participates in the Federal Direct Loan program. American students studying at King's are eligible to receive the subsidized loan portion but not the Federal Pell Grant.
American students are required to have a valid passport in order to study in Canada. It takes approximately four to five weeks to process a passport application. For more information and to apply, visit the U.S. government website.
After receiving admission to King's, American students need to apply for a study permit. It takes approximately four weeks to process a completed application. For tips on applying for a study permit, see Immigration Made Easy.