Spring Appeal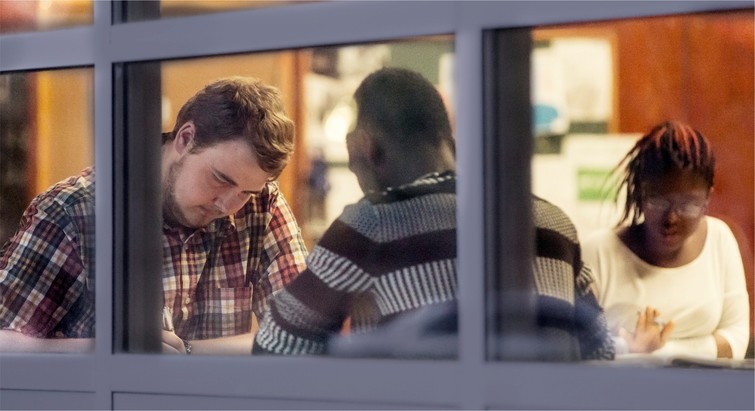 The King's University is one-of-a-kind. Every year new students join King's to begin their academic careers. This unique Christian institution has long been valued for its robust academic programming with an interdisciplinary emphasis, cutting-edge scholarly research conducted by dedicated professors, small classroom sizes that encourage student engagement, and a strong sense of community. But what else sets King's apart?
Remaining true to our roots, King's has the distinction of being the only Christian university in Edmonton and all of northern Alberta. We welcome students from our surrounding community, across Canada, and around the world.
Students who choose to study here are prepared for life in an atmosphere where Christ is the foundation of all learning. Our degree programs are complemented by weekly chapel services, Bible studies, small groups, mentorship programs, and other extracurricular activities to assist students to mature in their spiritual walk with Jesus Christ. Biblical principles are embedded in everything we do.
We believe in educating the whole person. Our professors facilitate conversations that shape students to be life-long learners and to engage the world's challenges with wisdom, discernment and a heart for God.
We inspire Christian leadership and equip students for lives of service in all spheres of society. Our world needs King's leaders, now more than ever. How would the future of our communities, churches, workplaces, schools and governing institutions be changed if The King's University wasn't around to inspire people to pursue a better world?
Our students and future generations depend on you. Our world is a better place because of universities like King's, and King's is a better place because you support the work being done here. Will you consider giving today?
Behind our continued success are like-minded individuals like you who believe in the importance of advancing Christian education. We depend on your prayers and generosity."
Thank you for your prayers and support,
Bill Lodewyk
Chair, Board of Governors
Cheques can be made payable and mailed to:
The King's University
9125 50 Street NW, Edmonton, AB T6B 2H3


I came to King's in 2016 and love how seriously the community here takes both its Christian commitment and its desire to live that commitment out in relationship to its community, its country, and the rest of the world. This is a place to be challenged as a disciple of Christ. It's a place to be deeply shaped and loved by a Christian community while debating and engaging the ideas pertinent to today's society.

Dr. Neal DeRoo, Associate Professor of Philosophy