Home

>

Foundation projects
Foundation projects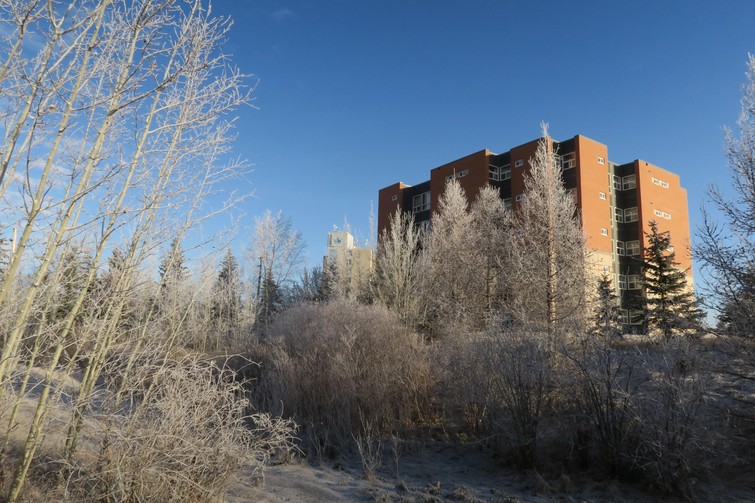 Historical Activities
An initial two-year debt reduction campaign carried out in 1985 raised over $300,000 and was a major component in the drive to eliminate the debt and allow King's to go forward in planning its future with new and expanded programs and a new campus.

This successful fundraising effort led to other initiatives, first among them the effort to help reduce the mortgage on the Student Residence building in downtown Edmonton, purchased in 1987. After the move to the new campus, this building was sold.

The most ambitious and challenging undertaking by the Foundation was the new campus capital campaign, called Facing New Challenges. It had the objective of raising $10 million in gifts and pledges from King's support community over a five‑year period. This objective in gifts and RRSP investments, was met in December, 1996.

The Foundation became Contributors' Agent of The King's Group Retirement Savings Plan, registered with Revenue Canada. Established in February, 1992, the Plan currently has more than 425 plan holders and more than $10.5 million in investments, which are used to replace bank financing of the campus. When the Trustee of the Plan was changed in 1995, the Foundation relinquished this role.

In 1995, a special 10th anniversary project was undertaken. Members raised $30,000 to purchase a 15‑passenger Dodge van for King's for the transportation of students, faculty, and goods. (This vehicle has since been sold and found its way to serve in mission work in Guatemala!)

The Foundation provides a number of bursaries and scholarships worth up to $14,000 total annually to full‑time students who show Christian commitment, have good academic standing, and demonstrate financial need. It also manages five endowments established by its members.
In recent years, the Foundation focused on several major projects

Business Program Support
In 1999, the Foundation adopted as its primary objective a proposal whereby gifts to its General Endowment Fund be designated and managed for the specific support of a future Chair in the Business Administration program, and/or support of King's Business Program more generally. As an initial project, the Foundation committed $300,000 over five years in support of the University College's new Bachelor of Commerce program, which was launched in 2000. Funding of this project was completed in 2005.
Student Residence Building
As the student body grew, space in the student residence became very limited, and the waiting list was quickly growing.

The residence was planned to be self‑supporting on an annual basis, including repayment of the investment principal over time. The Foundation provided $50,000 for the design and working drawings of the residence building. It also committed to providing King's with a grant of up to $50,000 per year for a maximum of three years, beginning in 2004/05, to cover any shortage of residence income that might arise during the first years of operation. Construction of the new Apartment Residence building on the property south of the present campus was completed in August, 2004. In fall 2008, both the Tower and the Apartment accommodations were fully occupied with about 225 students.
Secondary Education After-Degree Program
At the November 2005 Annual Members' meeting, the Foundation agreed to raise $65,000 per year for three years starting in 2006/07 in support of staffing for the Secondary Education after-degree program. Initially, it was hoped that this program could be established at King's in 2007/2008; the approval process by the Province of Alberta and the recruitment of staff delayed this until fall 2009. Meanwhile, fundraising for this project among Foundation members proceeded at a very successful rate.

A proposal, adopted by the Directors at their April 2008, meeting, was presented to Foundation members at the Annual Meeting on November 21, 2008. The proposal significantly increased the involvement and leadership of Foundation members by enhancing the fundraising efforts for this project to a commitment of $780,000 over six years, beginning with the fiscal year 2007/08. At this meeting, the Foundation agreed to take on the responsibility of raising these funds. The commitments of $130,000 for the fiscal year 2007/08, and $97,500 for the year 2008/09 were paid from gifts and pledges received from members for the initial project. Members of the foundation have honoured this sizeable commitment with their own gifts, supplemented with gifts from King's broader supporting community.  
Creation of a new Alumni Relations function and additional fundraising staff
To meet the need to connect with the growing amount of King's alumni globally, have them continue to cherish strong ties with their alma mater, and ultimately to give back, the Foundation agreed, in 2012, to help establish the institution's first Alumni Relations office and manager of the function by funding the first year-and-a-half of operations. In 2014, the Foundation also agreed to fund an additional professional fundraising position within King's Development office as the school continues to rely on donor support.
King's Campus Master Plan
At their April 2016 meeting, Foundation Directors agreed to provide an additional $120,000 in 2016-17 to fund the completion of the Campus Master Plan (in addition to the $180,000 previously approved for 2015-16). The plan helps ensure King's understands the full cost of any new facilities required to fulfil its Shared Vision 2020 strategic plan. The Foundation's support has been instrumental in making this necessary planning happen, and the completed plan will be important as we seek funding from our supporters to help realize the vision.
Projects in the plan based on priorities in Shared Vision 2020 include the following:
Centre for Student Success and Community
Centre for excellence in the Sciences
Centre for Sports, Health and Wellness
Centre for Christian Faith, Thought & Action
Stage two schematic design is a critical step as it will provide an estimate of probable construction costs. After the programming is complete (directed by an internal steering team), further design work will include structural, mechanical, and electrical engineering to outline specifications of major building expansions or renovations. Final design documents will be reviewed by a cost consultant to produce a cost estimate for each priority project by fall 2016. Stage three detailed design and construction will commence only after funding has been identified.
Scholarship and bursary endowment fund
From endowment fund investment earnings, the Foundation currently offers one bursary of $1,000 per year and two Business scholarships of $1,000 per year. The latter are made available to full‑time returning third and fourth-year students enrolled in the Bachelor of Commerce degree program. Selection criteria include academic achievement, demonstrated Christian commitment, and financial need.
Other endowment funds
The Foundation currently manages endowment funds in support of the following:
The Cornerstone Business Scholarship
The Boessenkool Business Scholarship
The Sunstar Scholarship in Environmental Studies
The Betty and Len Vogelaar Scholarship and Bursary
The Fred & Frieda Voogd Education Scholarship