Celebrate King's Week
March 11 - 15, 2019
King's is preparing for an entire week of celebrations on campus. We're highlighting the best and brightest parts of King's identity, showing our school spirit, and taking pride in our community's origins and traditions. Celebrate King's Week is also an opportunity to remember that this university could not exist without the Lord's provision and the support of those who believe in equipping our students to pursue a better world. Whether you are alumni, students, staff, faculty, or supporters, this annual event reminds us of reasons to celebrate because we know that King's is unlike any other post-secondary institution—it's our community and our legacy!
Throughout the week's events, we will highlight King's unfolding story. There is plenty to celebrate from the past and the founders who inspired this institution, to the present milestones and community achievements, to our dreams for a faithful future 50 or 100 years from now. Want to share your King's story? Contact alumni@kingsu.ca or 780-465-8318 for ways to be involved in Celebrate King's Week.


Founders Day: March 11, 10:30 a.m.
The story of The King's University started long before 1979. It is striking to read the names of all who were involved in the long process that led to the opening of King's. They were many. They held an array of viewpoints. A growing number of them became stakeholders in the establishment of the university; nothing could permanently stand in the way. They were—and in many instances still are—the 'Torchbearers for the King' remembered in this book.

President Emeritus Sidney DeWaal, in his preface to Torchbearers for the King (2004) by Harry Cook and William VandenBorn.
Tuesday is all about celebrating our founding story with a throwback to the people who made this place possible. We'll showcase archived photos from King's early days, share excerpts from our history, and highlight the Dutch heritage held by many of our founders.
The big hit of the day everyone looks forward to are the authentic Dutch stroopwafels made fresh on-site by Double Dutch Treats & Meats. These delightful syrup waffles will be available by donation towards mental health initiatives, so stay tuned for their surprise location starting at 10:30 a.m.


Surprise Snacks: March 12
Heading into midterm season, staff at King's want to surprise students with tasty snacks for hard effort and a big thanks for being here! Our goal is to make their day a little sweeter with tasty treats at a random time and location.
Do you want to be involved in supporting your student or others during this stressful season? Visit the TKU Parents Facebook page to connect, and collaborate with others to support current King's students!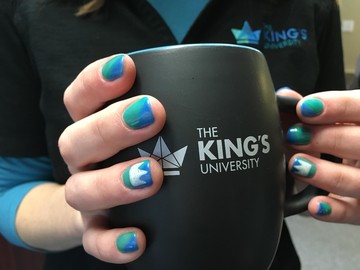 Show Your King's Colours: March 13
We encourage everyone on campus to colour coordinate! Show off your school pride by sporting King's apparel or wearing the colour blue. Izzy the Eagle and King's paparazzi will be out to snap photos and award prizes to the best dressed. Alumni and friends of King's can also participate! Post a picture featuring your new or vintage King's gear and tag The King's University Alumni on Facebook, Twitter, or Instagram. Prizes and our exclusive alumni socks can be mailed straight to your door. Don't have any King's gear to show off? Visit the King's bookstore during Celebrate King's week to receive a discount on King's gear. 


Last Lecture: March 14 – 6:30 p.m.
Last Lecture is an opportunity for graduating students to get together, enjoy their favourite foods, and reflect on the many lessons learned as an undergrad. Students vote on a faculty speaker to impart words of wisdom, the Derrick Timmermans Memorial Award recipient is announced, and a student-selected faculty panel answers questions from the audience. Graduating representatives from the Students' Association also offer their thoughts on what it means to become alumni and share memorable moments from the last four years.
This is a free event for all King's students intending to graduate in 2019. Last Lecture will be an evening of laughter, nostalgia, and dreaming of what life will be like after grad.


Donor Appreciation Evening: March 15 – 6:30 p.m.
Our supporting community have made our mission and vision possible. This evening is devoted to showing our gratitude through fellowship and sharing stories as well, giving students an opportunity to share their King's story in the Story Slam competition. Please RSVP for this free event at thekingsu.eventbrite.ca or by calling 1-800-661-8582, option 4. Guests will enjoy complimentary appetizers, punch, coffee, and dessert. Wine will be available for purchase.

For the Story Slam, students are given five minutes to recount their King's experience and audience members judge each contestant's story. If you have a story to share and would like to compete, contact alumni@kingsu.ca or 780-465-8318. The most engaging storyteller will go home with a grand prize courtesy of Alumni Relations, and participants will also be awarded a token of appreciation.