Back to Blog
10 Essentials To Pack For School
Aug 07, 2015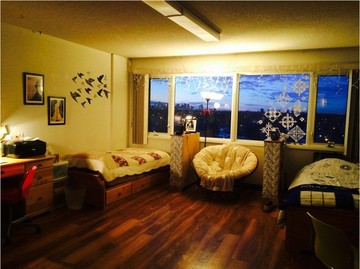 Hello Future Students!
It's that time! It's time to start preparing for your big move to King's campus! Moving away from home can be stressful and it's easy to forget to pack many things. In an effort to prevent you from leaving important things behind, here's a list of 10 essentials to pack for school, whether you're commuting or living on campus:
1. Laptop
Yes, laptops are expensive and buying one may be a temporary setback, financially. However, it's absolutely essential that all students have a laptop for university. Most professors require you to type out your assignments, and there are many online quizzes and labs that you will have to complete. Relying on school computers severely limits the time you have to work on these assignments (the building is only open until 11pm). Additionally, without your own laptop, it's hard to participate in those Starbucks study sessions or even study in the quiet of your room. There are many great deals for students, you just need to do a little digging!
2. Power Bar/Extension Cord
On the topic of technology, there are only a limited number of outlets in residence. In order to make sure you have all the plug-ins you need (cell phone charger, laptop charger, lamp, curling iron, nightlight, etc.), where you need them, a power bar and/or extension cord may be a good idea.
3. Coffee Maker/Travel Mug

Even if they initially try to fight it, coffee soon becomes an essential for many students. In the midst of papers, presentations, midterms, and finals, you will likely need that extra caffeine boost to get everything done. On a limited budget, you will not be able to afford to buy coffee all the time. Therefore, you will need to have your own means of making coffee. As well, having your own travel mug will also allow you to keep your coffee warm throughout the day and prevent spills.
4. Ear Plugs/Earphones
When you live with other students, there will be noise that interrupts your studying or sleeping. The simple solution: ear plugs or earphones. Earphones will also allow you to listen to anything you want without interrupting your roommate's studying or sleeping.
5. Calendar/Agenda
University life is a busy life. The only way that I have been able to keep track of all of my papers, midterms, presentations, soccer practices, choir rehearsals, and church events is by writing them down on a calendar that hangs next to my bed. Organizing your life by keeping a calendar or agenda will help you to complete everything that you need to on time!
6. A Good Backpack
The importance of a good backpack cannot be understated. You simply do not have enough hands to carry everything that you need around campus. A good backpack will not only have enough room for your computer, notebooks, textbooks, snacks, pencils, water bottle, etc. It will also have comfortable (i.e. padded) and adjustable straps. It will be made of a material strong enough to hold all of these things and it will have many separate compartments, which allow you to organize and easily find what you need.
7. Colored Pencils/Highlighters/Pens
If I could give students one piece of advice when they come to university, it would be to colour-code your notes. How you choose to do this is up to you, but colour-coding really makes a difference. As you colour-code your notes, you're thinking about what categories things fit into. As well, if you are a visual learner, like myself, to see categories as you review your notes helps you more effectively remember what you are studying.
8. Vicks Vapour Rub/Cold FX
Our bodies often like to try and get sick at the worst possible times (i.e. during midterms or finals). It's so important that you keep Vicks Vapour Rub and/or Cold FX around to ensure that illness does not get the best of you during these important times.
9. Pillows
You will need to bring two different kinds of pillows with you to university. The first kind of pillow is a comfortable sleeping pillow. It is so important that, when given the opportunity, you get quality, refreshing rest. Good sleeping pillows can help with this. The second kind of pillow is a bed sitting pillow. Sometimes sitting at a desk can be uncomfortable and, especially in Edmonton, it is very easy to feel cold. A bed sitting pillow will allow you to sit comfortably in bed, and stay warm while you study!
10. Snacks
And healthy ones at that. It's essential that you keep your blood sugar at a good level so that your brain gets the nourishment it requires to do all of the things you demand of it.
I hope this helps you as you prepare for your move to the King's campus and I hope that you have a wonderful university experience. Since this is my last blog as a student blogger, I would also just like to say that I've really enjoyed sharing my insight with you! Thanks for being an incredible audience!
For the last time, keep it real folks,
Michelle