Back to Blog
13 Places To Visit On That Summer Road Trip
Jun 26, 2015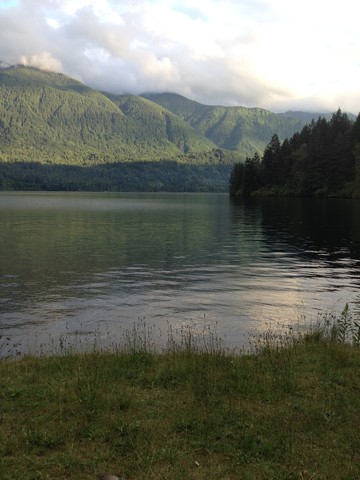 Hello King's Community!
Summer is here, which means that it is time to take that well-deserved vacation! There are many fantastic vacation spots in distant places, such as South America, Europe, Africa, Australia and Asia, but great vacation destinations are not limited to these. There are many awesome (and cheaper) places to visit within driving distance of Edmonton! t It is no surprise, then, that road trips are often the choice vacation for Edmontonians. To show you what I mean, here is a list of 13 awesome places to visit on a Western Canada summer road trip:
Embedded in Banff National Park (a UNESCO World Heritage Site), the town of Banff is one of the most beautiful towns in the world. There are many cute shops and great restaurants (especially Eddie's Burger + Bar). As well, the super relaxing Banff Upper Hot Springs is a 10 minute walk from the town centre. 
A mere 45 minutes away from the town of Banff is Lake Louise, a world renowned vacation spot. Not only does it offer beautiful scenery, there are also trails to hike, such as the Lake Agnes Teahouse Hike - a hike to Lake Agnes and the historic teahouse on its shores, where you can enjoy a cup of tea and a piece of pie. As well, you can canoe on Lake Louise and go for a walk inside the gorgeous Chateau Lake Louise that sits right on the edge of the lake.
3. Horseshoe Lake, Jasper, Alberta
Approximately 25 km south of the town of Jasper, Horseshoe Lake is one of a few cliff jumping sites in Alberta. The highest jump here is 80 ft. high, but there are also varying heights if that scares you.
4. Royal Tyrrell Museum, Drumheller, Alberta
A fan-favourite, the Royal Tyrrell Museum is the only museum in Canada dedicated exclusively to paleontology. It houses the world's largest display of dinosaurs and offers a variety of creative, fun, education programs meant to bring the prehistoric past to life. There are also several hiking trails behind the museum, which, speaking from experience, are a great time.
5. Calgary Stampede, Calgary, Alberta
The Calgary Stampede is one of the largest rodeos in the world, complete with a parade, fair, stage shows, concerts, agricultural competitions, chuck-wagon racing, and First Nations exhibitions. Known as "The Greatest Outdoor Show on Earth", the Stampede is a must experience for all Alberta residents. 
6. The "Big Things" of Alberta
Interestingly, Alberta contains many large statues of a wide variety of things. To name a few, Alberta is the home of the world's largest Ukrainian Easter Egg (Vegreville), the world's largest Keibassa Sausage (Mundare), the tallest teepee in the world (Medicine Hat), and a giant perogie (Glendon). You could make an entire road trip dedicated to visiting these crazy places.
7. The Okanagan Valley, British Columbia
The Okanagan Valley is full of great camping, great beaches, awesome wineries and delicious fruit. Check out Kelowna or Penticton for the best of these. Seriously, you will not be disappointed.
8. Cultus Lake, British Columbia
Cultus Lake, in my opinion, provides the best camping in Western Canada. Campsites are located right along the shores of the lake, in which you can both swim and canoe. The scenery is incredibly beautiful and, for an added bonus, there is a really fun amusement/water park for you to enjoy.
9. Capilano Suspension Bridge Park, Vancouver, British Columbia
As its name implies, this park contains the famous Capilano Suspension Bridge. In addition, this park contains an awesome Cliffwalk, which follows a granite precipice along the Capilano River. Unique to this park is the treetops adventure, which gives you a squirrel's eye view of the coastal rain forest.
10. Stanley Park, Vancouver, British Columbia
This 400-hectare piece of land is the largest urban park in Vancouver. This park is perfect for long walks, bike rides, and picnics!
11. Playland Amusement Park, Vancouver, British Columbia
This one is for the dare-devils in the audience. If you love amusement park rides, you may want to consider stopping here. This is arguably the best amusement park in Western Canada, and you're bound to have fun!
12. Granville Island, Vancouver, British Columbia
Travel to Granville Island for great shopping and tasty food! Complete with great little boutiques and an awesome public market, Granville Island embodies the culture of the pacific coast. Every time I go to Vancouver, I make sure to visit Granville Island!
13. Vancouver Island, British Columbia
Vancouver Island is absolutely gorgeous. The capital of British Columbia, Victoria, is located here. Victoria is known for its amazing food and coffee, as well as its interesting architecture. In other cities on the island, you will have opportunities for whale watching. Specifically, if you travel north to Tofino, you can even try your hand at surfing!
I am a bit of a road trip junkie, myself, and I have made some of my favourite memories on road trips in Western Canada. I hope that this list inspires you to plan a road trip of your own and that, in doing so, you will also be able to make some awesome memories.
Keep it real, folks,