Back to Blog
A Place to Call Home
Jan 16, 2015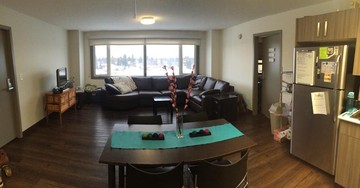 Hello there students! The King's Residence is holding a contest called the "Best Nest Photo Contest," with a wonderful grand prize of a bunch of cool King's swag, as well as a $20 Level gift card. All you have to do is take a picture of your room in rez, either in the tower, a suite, or an apartment, and post it to the Best Nest contest page.
I wanted to take this opportunity to talk about my best nest experience. I am currently in my second year here at King's, and I have lived in rez for both of these years, and I love it! Last year I lived in a tower room with two of my best friends, and we had a blast. That year is definitely going to be one that I will always remember because of the many great talks and funny times that were shared in that room; the friendships that developed throughout my first year of living in the King's community are ones that I know will last for a long time.
This year I got to move into the newly renovated tower suites! Those rooms are absolutely beautiful, with brand new furniture and appliances, but I think one of my favourite parts about the suites is that they have a kitchen so we all get the chance to cook for each other and share our meals together (the best way to bond always involves food). And last but definitely not least, my roommates make King's feel like home; whether its eating dinner together, watching cheesy chick flicks, or making late night runs to satisfy our ice cream cravings, we always have a blast no matter what we do. Although six girls living together might sound like it could get a little crazy, I now consider these girls to be some of my best friends.
I think the best part about living in residence, whether it's in the tower in a room or suite, or across the road in the apartments, is the amazing community that forms throughout the year. Living so close to so many people allows your friends to become your family, and the memories you make will last much longer than your university years; I know that the friendships that I have made are incredibly special, and will last with me for a lifetime.
If you are considering coming to King's and living in residence, I would highly recommend it; it is such an amazing growing experience, and I can now call King's my home!
Tara