Back to Blog
Cafeteria Favourites
Aug 21, 2015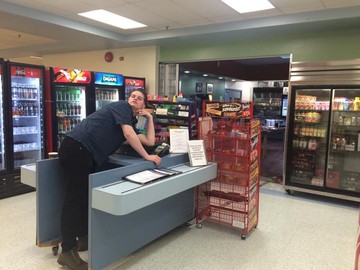 Hello incoming King's students!
Wondering what meals await you at the King's cafeteria? Here at King's we are pretty lucky because our cafeteria is run by a catering company, Choices Cafe, run by Chef Michel who makes great food. The cafeteria offers a standard menu that is available whenever you like, and it also offers impressive daily specials for breakfast, lunch, and dinner.
So how does the cafeteria work? If you are living in the first year Tower Rooms, you are required to get a meal plan, which you pay for at the beginning of each semester. This amount is loaded onto your student ID card, which works like a debit card whenever you go to buy food from the caf. 
Now that you know how the caf works, here's my handy-dandy list, well actually two lists, of my favourite cafeteria items:
Best Food from the Hotline:
1. Make-Your-Own Sandwich. The make-your-own sandwich option is one of my defaults because you can order it every single day and have a different meal each time! You get to choose what kind of bread, meat, cheese, sauce, and vegetables you want on it.
2. Homemade Mac'n'Cheese. Always get the mac'n'cheese. Seriously though, this is probably my favourite special because as far as comfort food goes, it's the best.
3. Chicken Burger. What's especially great about the chicken burgers is that you can choose to get either crispy or grilled chicken – more choice is always better!
On a related note…
The evening specials are a great option at the caf. As far as making the money on your card last the longest, specials are probably your best bet. The amount of food that you can get is usually pretty generous and is sure to fill you up!               

Best Food from the Servery:
1. Pizza Pretzels. Best when fresh out of the oven, but equally good reheated in a microwave – they go fast though, so if you're not there you might miss out!
2. Cookies. Double chocolaty chip, M & M, gingerbread molasses, peanut butter, white chocolate macadamia nut, sometimes even shortbread… the caf has great cookie options for all you cookie monsters out there!
3. Fresh Cinnamon Buns (with Cream Cheese Icing). When the caf makes cinnamon buns it's pretty hard to miss; the smell fills the hallways surrounding the caf, drawing you in – basically you don't have a choice, you have to get one!
4. Take advantage of the fancy coffee syrups and the latte machine. Why spend extra money at fancy coffee shops when the caf can give you the same thing?
While the caf may not be the same as your mom's cooking, we are pretty lucky here at King's because, as far as cafeterias go, King's caf is pretty good!
Cheers,
Tara