Back to Blog
Calling All Athletes – 4 Reasons Why You Should Check Out An ID Camp!
Feb 27, 2015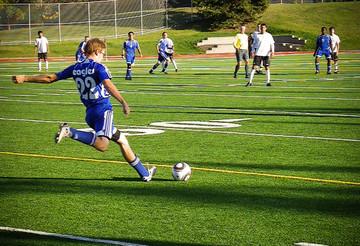 Calling all athletes – are you interested in joining a King's athletics team and becoming an Eagle? Are you thinking about coming to an ID Camp? Do you even know what an ID Camp is? Well I am here to answer your questions with this list of 3 reasons why ID camps are awesome:
1.       ID Camps get you connected with the coach and the team.
It also allows you to start getting to know your potential teammates, something that is really important since you will be spending a good chunk of time together.
2.       ID Camps include gym (or field) time.
By attending an ID camp, you give the coach a chance to see how you play and how you fit with the existing team. The coach gets to see your playing style and ability and can evaluate how those skills fit with the existing team. So play your best so the coach can see all that you're capable of!
3.       ID Camps also include classroom time.
Yes I know classroom time sounds kind of boring, but it also gives the coaches a chance to tell you about practice schedules and the expectations and requirements of being an athlete at King's. This is very important because it will give you an idea of what daily life as a King's athlete will be like.
4.       Most positions are given out at ID Camps
The vast majority of first year team positions are given out at ID Camps. Often at the end of each ID Camp, coaches will offer positions to eligible students on the spot. So don't wait for the Fall, register for a Spring ID Camp!

King's currently has four sports teams: Basketball, Volleyball, Soccer, and Badminton. Basketball and Volleyball both have 1 ID Camp left this year, Soccer has 2 ID Camps left, and Badminton will be holding an open tournament.
Here are the details for King's Spring ID Camps and links for you to register:
Date: Saturday, March 21, 2015
Location: The King's University
Coaches: Grace Scott (Women's Volleyball & Phil Dixon (Men's Volleyball)
Date: Saturday, March 14, 2015
Location: Commonwealth Fieldhouse
Date: Saturday, June 13, 2015
Location: The King's University
Badminton ID Camp & Open Tournament
Date: Saturday and Sunday, March 14-15, 2015
Location: The King's University
Coach: Naeem Haque (Badminton)                   
Joining a sports team is a great way to get connected at King's and develop strong and lasting friendships, so come on out to an ID Camp and show us what you've got!