Back to Blog
Celebrating Canada - The Edmonton Way
Jun 29, 2015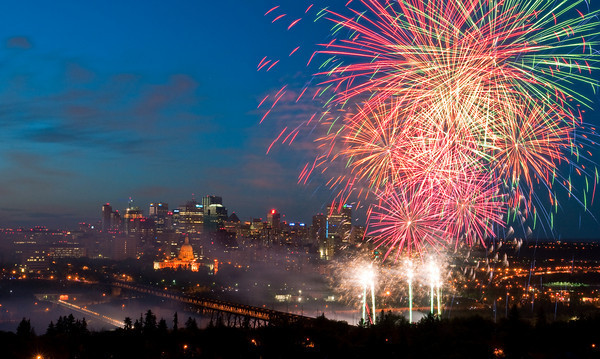 Hey King's!
Hope your summer is off to a good start! As you all know Canada Day is coming up soon...how are you planning on celebrating Canada's 148th birthday? If you aren't sure, check out some of the awesome things Edmonton is doing to celebrate! There are enough activities going on for you to plan an entire day filled with fun activities!
1. Visit the High Level Bridge
At 11pm they will light up the bridge that is covered in over 50,000 lights and play a variety of Edmonton music. Last year the lights were synchronized to the national anthem with music done by the Edmonton Symphony Orchestra! Check it out to see what they'll do this year!
2. Watch the Fireworks
After watching the lighting up of the bridge, pull out a blanket or lawn chair and enjoy watching the fireworks light off over the river valley. Click here for some suggested sitting areas.
3. Tour the Alberta Legislature
Only on Canada Day does the Alberta Legislature open the Chamber Floor to guests from 12:30-5:00. Join a tour and find your MLA's seat! When you're done the tour, check out the live music, dancing and entertainment taking place all day on the legislature grounds. Click here for more info.
4. Visit a National Park for Free!
On Canada Day, choose any National Park and get in for free! Some of the parks are even hosting special Canada Day events. Click here to find a National Park near you!
Edmonton has a wide variety of events and activities planend for Canada day. If you are interested in seeing more events, click here.
Happy Canada Day!!
Cheers,
Veronica 
**Photo is courtesy of the City of Edmonton