Back to Blog
King's Guide to #YEG
Sep 11, 2015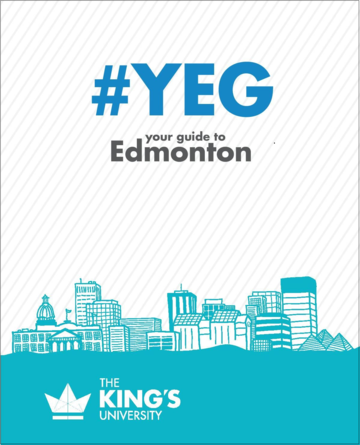 Hello present and future King's students!
As you know, summer is over. *Sigh. This means that the season of papers, labs, midterms, projects, and finals will soon be in full swing. If you're looking for something to combat the homework blues, I recommend taking a look at King's Guide to Edmonton that has been prepared by students just like you! For each category, (Cafes, Study Spots, Restaurants, Entertainment, Physical Activity, Groceries, Shopping, Churches, Banks/Registry/Travel, Health, and Things to do just Outside of Edmonton), the Guide lists the most popular options close to King's that are frequented by King's students!
Here are some of my favourite places from this list:
Café and Study Spot:
Remedy Café – Ask anyone and they will tell you that Remedy has the best and freshest Chai around. Plus, they also serve samosas, so you can't go wrong by choosing Remedy as your go-to study or hangout spot.
Restaurants:
Fusia Coral de Cuba – Right across the street from King's, Fusia has delicious Vietnamese and Cuban food combined with prices perfect for a student budget.
The Sugar Bowl – This is a favourite of many university students. The delicious food and one-of-a-kind atmosphere has students from all over coming back time and time again.
Entertainment:
Muttart Conservatory – Perfect for anyone who loves nature and wants a break from classroom life.
Physical Activity:
Rundle Park – This park offers Frisbee golf, tennis, baseball, walking/biking trails, picnic areas… in the winter check out the cross-country skiing and skating rinks that it includes.
Groceries:
Safeway – This is so convenient because of its close location to King's in the Capilano Mall. Plus, shop on the first Tuesday of every month and receive a 10% discount!
Shopping:
West Edmonton Mall – There is lots to see in the WEM; with 800 stores, an amusement park, waterpark, ice rink, mini golf, movie theatre, and a sea lion show you can be occupied for hours.
Outside Edmonton:
Lacombe Corn Maze – If you're looking for something to do a little farther from King's, check out the corn maze! Each year a new maze is designed over 50 acres of corn, bring some friends and check it out.
So there you have it – those are some of my top things to do and places to see around King's. Be sure to check out the Guide for a more extensive list, including recommendations for local churches, banks, registry, travel, and health.


Here's hoping that you find the Guide as helpful as I have!
Tara