Back to Blog
King's Students Attend Model UN on Human Trafficking
Mar 10, 2015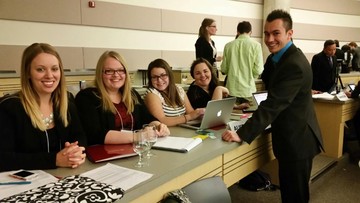 Hi everyone!
Here at King's there are many classes that provide students with the opportunity to learn about social justice issues. This past weekend, as part of a Sociology 360 course, I had the privilege of participating in a Model United Nations hosted by MacEwan University. Students from a variety of Alberta post-secondaries were put into groups and assigned a country at the beginning of this semester. King's was assigned Australia! After weeks of researching the issue of human trafficking and coming up with our resolution, we attended the Model UN to share our ideas with the other 53 countries represented. 
We spent all day Saturday discussing the issues of Human Trafficking and other countries resolutions, and worked together to come up with a way we could all work together to resolve this problem. The event started off with approximately 25 different resolutions and after a long day of collaborating with other countries, there were 11 different resolutions to vote on.
Sunday morning was spent debating for and against these resolutions and then we voted on the best ones. I am happy to report that Australia's resolution, supported by 10 other countries, passed with 34 votes! Overall it was a productive meeting, having passed 5 different resolutions to aid in the ending of human trafficking.
Taking part in this past weekend's Model UN is one of the many ways that King's demonstrates passion for social justice issues. We even have some professors here at King's who demonstrate this passion on a daily basis through their research.
Dr. Julie Kaye is highly involved with the issue of Human Trafficking with specific relation to the sex trade. She has written a few articles that have been published in the New York Times and the Edmonton Journal! Dr. Julie Kaye is also teaching a Criminology class this semester and has partnered her students with the Action Coalition on Human Trafficking (ACT) Alberta to participate in community engaged research. Her students are looking into human trafficking and legal databases to find what kind of criteria is used to decide on criminal trafficking cases in Canada.
These are just a few ways King's gets involved throughout the community. There are numerous courses where professors encourage their students to reach out to the community and not only gain experience but make a difference. I encourage you to take one of these courses when you get the chance!
Veronica