Back to Blog
Personalize Your Rez Room
Aug 28, 2015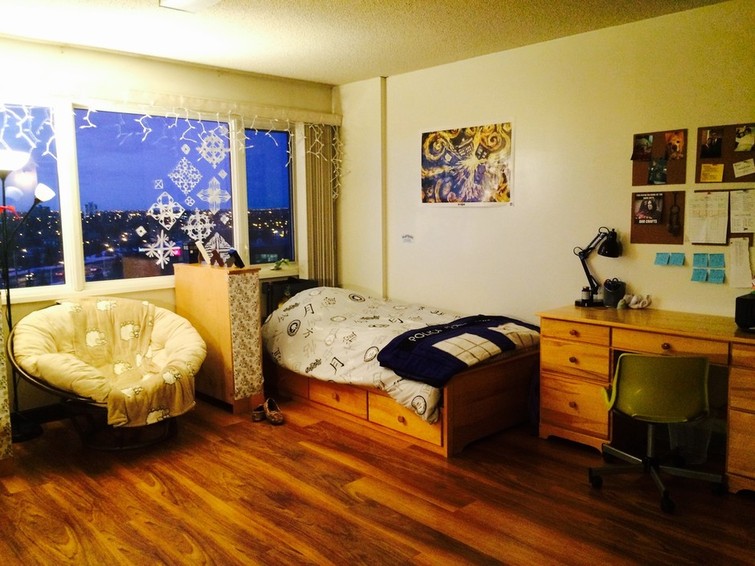 Hey King's!
Tomorrow is Move-In Day for all of our new students! Can you believe it?! Where did the summer go?! Well if you're looking for different ways to make your rez room your own, check out a few of the ideas I've come up with!
1. Make your bed a comfy one
You'll soon discover how much your bed means to you in your first year, so why not make sure it's comfortable by throwing on memory foam or a padded mattress cover on top? Also pick out a bedspread that works for you (I suggest Ikea) and add pillows and cushions! You can even make your own headboard - trace out the shape you'd like onto cardboard, cut it out and wrap it in your favorite fabric and hang it at the head of your bed.
2. Decorate your walls
You have lots of wall space, so use it! Whether you want to hang up artwork, wall stickers, or pictures of friends and family - do it! Spruce it up a bit by outlining your pictures in washi tape or hang them from Christmas lights. If you write lots of quick notes, hang up some cork/chalk boards to organize all your thoughts in one place. We don't want you making holes in your walls, so we recommend using sticky tack or those great 3M adhesive hooks for heavier artwork.
3. Lamps
The windows provide lots of light but you may want to have some lamps for mood lighting. There's nothing better than curling up with your coffee with the soothing light of a lamp beside you as you study. Also a bedside lamp is a must!
4. Don't be afraid to move the furniture

The room is yours to make home, which means you can move the furniture around! So if you want to make a living area or an entertainment centre, go for it! It's amazing what a small rug and a chair/couch can do to a room, so don't hesitate to bring your own furniture in! Rumour has it that past residents have even brought in a ping-pong table!
5. Fill your kitchenette
There's a small kitchenette in every Tower Room, which has space for a mini fridge, as well as a coffee maker/kettle/Keurig, etc., so why not make the most of that space?! Also stocking the cupboards with your favourite snacks is a must for those late night study sessions. Chat with your roommate to coordinate who's bringing what and even split the cost of buying a fridge together.
I hope these ideas are getting your creative juices flowing. Want to see how previous rez students have designed their rooms in the past? Click here to check it out! If you're still stumped on what to pack, check out King's packing lists created by our Residence Director. Have fun getting settled in!
Cheers,
Veronica