Back to Blog
Why I'm Glad I Graduated From King's
May 19, 2015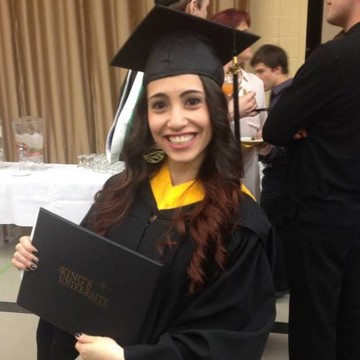 Hello King's Community!
As many of you are aware, King's Spring Convocation took place on May 2. This year, over 100 young people walked the stage and made the transition from King's student to King's graduate, including yours truly. Truthfully, it still hasn't sunk in that this chapter of my life has come to an end. My time at King's was absolutely amazing, more than I could ever ask for, and I can honestly say that there is no other place that I would have rather graduated from. Here's why I'm glad I graduated from King's:
King's Provides High Quality Education
It seems that many people think that a smaller institution, such as King's, does not provide as high quality of an education as a larger institution. This is a misconception. I have no doubt in my mind that I have received a high quality education at King's. As a result of small class sizes, there have been many opportunities for one-on-one interaction and mentorship from my professors. Professors often taught both the lab and lecture components of a course, allowing for a large amount of cross over. My professors were all highly knowledgeable in their fields. I don't think I had a single professor in my four years at King's that did not have their PhD. I also had the opportunity to participate in long-term research alongside some of my professors, present my research at conferences, and even publish parts of it. If none of this convinces you, 95% of King's students who have applied to medical school in the past four year have been accepted. How's that for proof of King's quality of education?
King's Is A Liberal Arts Institution
This means that all King's students are required to take courses in a wide variety of subject areas. As a Biology student, then, I was not only required to take courses courses in Zoology, Genetics, Ecology, and the like. I was also required to take courses in Philosophy, History, Theology, and English. On the surface, this does not look appealing, and I'll admit, at first I was not sold. However, I have truly come to realize the importance of this kind of education. On the most basic level, having attained knowledge and skills in many different areas, I feel as though I can make more informed decisions and better deal with the many problems life puts forth. On a deeper level, I believe that by studying all of these things, I better understand how the different areas of life interact and I have developed a more holistic worldview, which will further increase my ability to find effective solutions to life's problems.
King's Integrates Faith and Academics
King's is a faith-based institution, and this was part of the reason why I decided to come to King's. King's constantly challenged me to explore how my Christian faith and academics can be integrated. As I continued to explore the relationship between faith and academics, I continued to grow in my faith. By the end of my degree, I had grown, spiritually, in ways that I had never anticipated. I truly began to understand my Christian calling to steward the creation and help move towards the reconciliation of all that has been broken by sin. This made me, I believe, an even better scientist. This being said, I should mention that students do not need to be Christian, nor do they need to have a faith background at all, to attend King's. King's welcomes students of all faith backgrounds and will not try to force any beliefs on students. The unique thing about King's is that discussions about the integration of faith and academics happen freely on campus, without judgement. At King's, it is about learning to articulate what you believe and to justify why you believe it. This exploration can promote tremendous personal growth and I believe, will make a stronger generation of young people.
King's Students Are More Than Just A Number
I cannot speak highly enough of the professors at King's. I can confidently say that each professor at King's cares about the success and well-being of each one of their students. This is clearly shown through their willingness to sit down one-on-one with students to talk about homework problems, career goals, or even life in general. I will never forget how my Intro Chemistry professor, in my first semester of my first year, made an effort to have coffee with each one of the students in the Intro Chemistry class, so that he could get to know each of us as individuals. I was so impressed and this solidified my decision that I was in the right place. From then on, I must have visited my professors in their offices for homework help at least twice a week and they were always happy to sit down and explain things over and over again until I understood (which sometimes took a while!).
King's Has An Amazing Student Body
King's does not only have amazing faculty and staff. King's also has an outstanding student body. Never in my life have I met a group of young people who are so driven and passionate, accepting and loving, and who have challenged me in such profound ways. I know that if I ever have pressing questions about controversial topics, I can talk them out with my classmates without being judged. I know that if I am ever experiencing hardship, I have numerous shoulders to lean on. I also know that if I ever want to try something crazy, there is a group of adventurous and fun individuals just waiting to accompany me. I have made some of the best friends I have ever had during my time at King's. I know that you can make good friends almost anywhere, but there is something so special about the comradery at King's that you could never truly understand until you have experienced it. My fellow King's students have inspired me in so many ways and I am so grateful.
To any student that is trying to decide between post-secondary institutions, give King's a chance. Choosing King's was one of the best decisions that I have ever made. At King's, I received an education that went beyond academics. I learned how to live a meaningful life and how to truly love others. I made friendships that I know will last a lifetime and memories that I will treasure forever. I am proud to be a King's graduate and I am excited to see what comes next.
Keep it real, folks.
Michelle
B.Sc. Biology, Class of 2015