Back to Blog
On-Campus Employment - Games Day Staff
Apr 24, 2015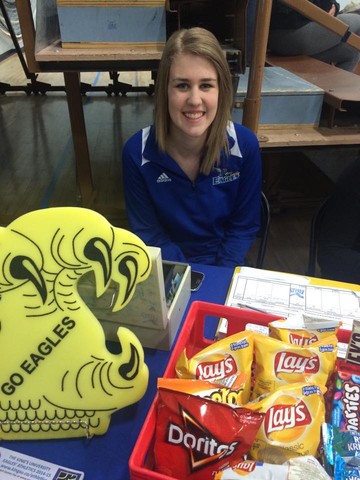 For today's on-campus job highlight, I spoke to a member of the Games Day Staff about what this job is all about:
1. What is your name, where are you from, and what are you studying?
Renae: "Renae Angelynn VanWyk, I'm from Abbotsford, BC and I'm studying Bachelor of Arts in English and History."
2. How did you get involved with student employment, and what is your job?
Renae: "I do admission and concession as part of the Games Day Staff. I heard about it through multiple friends on campus who did the job last year."
3. How many hours do you work a week and when?
Renae: "Anywhere from 10-13 hours a week on Friday and Saturday evenings. Only from the months of October to March though. Or end of February."
4. On an average shift, what do you do?
Renae: "Uhhhh, we prep the gym for volleyball and basketball games, and I sell – or I collect admission and sell merchandise, as well as concession items and then clean up the gym once the games are done."
5. What are your favourite and least favourite parts of the job?
Renae: "I like working on campus because it's convenient because it's where I live. I like that it lets me be involved in a big part of our King's community and I get to know a lot of people through the job. It's a fun team to work with, and you get to watch the volleyball and basketball games… support the Eagles! Maybe the worst part is that it takes up your weekends, but it's not really that big of a deal because it's what you signed up for, you know?"
6. Have you found it difficult to balance work and school?
Renae: "Uhm… not terribly difficult, you just have to learn to manage your time and know that you have already committed that time so you have to work your schedule around it."
So there you have it – if you are interested in getting a job with the Games Day Staff it sounds like a great place to work!
          Tara