Back to Blog
People of TKUSA – Abigail Douglass (President)
Sep 25, 2015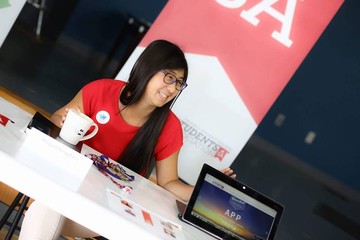 Hi Future King's Students!
As a King's student, you'll be sure to have lots of contact with The King's University Students' Association (or TKUSA for short – pronounced *ta-koo-sah*). You might be wondering what TKUSA is and what they do here on campus - this blog series will give you the inside scoop. Today's blog highlights TKUSA President, Abigail Douglass:
1. How did you hear about The King's University and why did you decide to come?
I heard about King's from a friend who was looking at coming here after high school. I didn't know anything about King's, so decided to check out the other big universities in Edmonton first. One day during the summer I went on four campus tours in one day. I ended up not enjoying any of them because they were so big and made me feel small. Since there was time left in the day, I decided to go and check out King's. By the time I had left, I'd been on a tour of the whole campus and had most of my classes picked out!

2. What exactly is TKUSA?
TKUSA is an elected, student-run association whose main purpose is to be the voice of students. We meet with staff, faculty, the Senate, the Board of Governors, as well as other associations within Alberta to ensure these people know the opinion of King's students. TKUSA also runs many different events throughout the year that are sure to make your time at university a blast!

3. What things have TKUSA already been doing this year?
TKUSA has been working largely on its involvement with the Government. We have had round-table discussions with the Minister of Innovation and Advanced Education and have met with our MLA. We are also working heavily on improving transit to and around King's. We're also having fun planning events, such as our "King's Karnival" kick-off day that took place at the beginning of September.

4. What are you most excited for about the year ahead?
I am excited to make this year of TKUSA a year that people will remember. I want to make big enough changes for students that when they graduate, they will be able to look back at the things that were accomplished this year.

5. How can a student get involved with TKUSA?
There are so many ways that a student can get involved with TKUSA. The major one at this time of year is the First Year Rep. This person ensures that first year students have a voice in TKUSA and that their views and concerns are heard. Later in the year elections take place for members of the executive board and staff are hired to plan events and work in The Level Coffee House.
TKUSA clubs also give students a way to build friendships and make connections on campus. Whether its joining an existing club, or starting a new one, you'll be sure to meet great people and do exciting things in the process!
Interested to learn even more about TKUSA and what they can do for you? Check out www.tkusa.ca. If mobile is your thing, then download the TKUSA app on the App Store and Google Play.
Cheers,
Josh