Back to Blog
Preparing for King's 101
Aug 14, 2015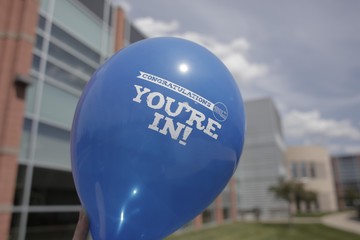 Hey King's Students!
Can you believe it's already halfway through August?! Crazy how fast a few months can fly by! I bet you're all pretty excited to start your first year of university...or maybe a little anxious? Well don't stress too much because I have put together a list of tips to make the start of school really smooth!
1. Like the Welcome2King's Facebook Page and Stay in the Know!
Chat with your future classmates, make friends ahead of time and stay in the loop with news about Orientation, moving into Rez and preparing for the start of school.

2. Start Packing
Rez Students: be sure to come prepared! To make it a little easier for you guys, we've put together a few packing lists. The lists will give you ideas on what to bring and will let you know what is and isn't allowed in Rez. Be sure to check them out!
Commuter Students: check out Michelle's blog on what to pack!
3. Apply for On-Campus Employment (deadline Aug. 15)

Looking to work part-time during the school year? What's more convenient than working on campus?! New students have up until August 15th to apply for On-Campus Employment!

4. Online Confirmation (opens Aug. 21)

This is the official process of confirming your attendance at King's! You will confirm your Fall course registration, contact information, upload a photo for your ID card, and pay for your Fall tuition and fees. You can do all this online or in person. More details will be sent to your King's e-mail!
5. Register for UNIV 150: Academic Success
Wondering how you can hone your study skills and succeed at the university level? Register for UNIV150: an 8-week course that covers topics such as effective reading and note taking strategies, writing a university level paper, delivering an oral presentation, preparing for exams, and much more. This Fall class meets on Thursday afternoons from 3:30-4:30 and the cost is $20!
6. Residence Move-In Day (Aug. 29)

Moving can be a stressful event. To make it easier on you and your parents, be sure to check out the Move-In Details to avoid any last minute confusion!
7. Orientation (Aug. 31 & Sept. 1)

As an incoming student at King's, you get the pleasure of attending Orientation!  Click here to find out more info and don't forget to register (use course code UNIV 050)!
8. Meet the President (Aug. 31)

Be sure to have a chat with our President, Dr. Melanie Humphreys, at the President's BBQ Lunch.

9. Buy Your Textbooks
Some students like to wait a week into class before buying their textbooks, but if you'd like to get a head start, check out the textbook listings on our Bookstore page! Did you know that King's has an Online Bookstore, so you can purchase your textbooks online ahead of time and pick them up when you arrive on campus?! Be sure to check it out!
10. Register for a Locker
Don't want to be stuck trucking your textbooks class to class all year? Any student has the opportunity to claim a locker! Find an empty locker and scan the QR Code on the door or register its number through your Online Services account. Lockers fill up pretty quickly, so register your locker during the first week of classes if you can!
11. Check Out the Healthcare Plan
Be sure to check out the Students' Association website for more details on the Student Healthcare Plan to see all that's covered!
12. Check Out the Clubs Fair
Keep your eyes and ears open about the upcoming Clubs Fair in September! Find out what clubs are available, or even start your own! Stay posted for more details!
13. Attend the Student Retreat (Sept. 18-20)

Attending this event is a great way to make new friends and kick back before the semester gets really busy. This year's student retreat is at Camp Nakamun. You can register for this event through your Online Services account by using the course code UNIV 065. You don't want to miss out!
That's all for now folks, I hope you're all excited for your first year! Enjoy the last few weeks of summer!
Cheers,
Veronica