Back to Blog
The 8 Best Intro Classes At King's
Apr 10, 2015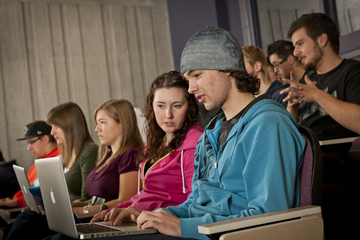 Hello Future King's Students!
It's that time! Course registration is open for new students! After you've paid your tuition deposit, you are welcome to start building your class schedule. Depending on the degree program you are registered in, you will have a certain number of courses that you are required to take in your first year. However, there will still be some empty space to fill with some awesome course options! In an effort to make your decision-making process easier, here's my list of the best intro courses offered at King's:
ARTS 210 - Mixed Media Arts - In this class, you'll get to explore aspects of three-dimensional design and develop skills in a variety of techniques, including paper mache and carving. Students absolutely rave about this class, and have stated that if you put the effort in, you can get a good mark, even if you are not super artistic.
ASTR 200 - Introduction to Astronomy I - Aimed for non-science majors, this course fills the natural science requirement for a Bachelor of Arts degree. Students will explore everything from the history of astronomy to the formation of the galaxy to experimental techniques in astronomy. Students of all majors have stated that they have thoroughly enjoyed this course.
ENVS 200 - Introduction to Environmental Sustainability - In this class, you'll get to explore the concept of sustainability and all of its environmental, social, and economic implications. With a special focus on sustainability in Edmonton, students will examine ways of improving sustainability. Students time and time again have said how they have been inspired by this class to be involved in creating a better world.
GEOG 201 - Physical Geography - This course is an introduction to the earth's major planetary components, geological, hydrological, global climate systems and land forms. It meets the natural science requirement for a Bachelor of Arts degree and involves a ton of field trips (Jasper hot springs anyone?!).
MUSI 200 - Introduction to Music Theory - This course is geared for students who have very little background in music theory and fills the fine arts requirement for non-music majors. You will get to learn everything from how to read music to basic voice leading. And for those of you who have a musical background already, you'll catch on easily!
PHED 255 - Personal Physical Fitness and Wellness - In this course, students will examine the many aspects of total wellness, including fitness, nutrition, elementary-first aid, stress, and disease control. As it is so applicable to daily life, this is definitely a course you don't want to miss out on!
PSYC 250/251 - Basic Psychological Processes/The Person in Society - These introductory psychology classes are my personal recommendations for first year students. The first of these focuses on the science side of Psychology, whereas the second focuses more on the arts side. With tons of cool term projects, you will never be bored! 
SOWK 200 - Introduction to Social Work - This course gives a broad overview of social welfare and specifically, the profession of social work. Students will examine the history, approaches, and the many areas in which social workers can be employed. This course fills a prerequisite for the Bachelor of Social Work program at the U of C, and is a wonderful learning experience, even for people who don't want to go into social work.
I hope this list can help you make some decisions about your schedule for next year! Happy Schedule Building!
Michelle