Back to Blog
The Stress of Conversation
Sep 21, 2015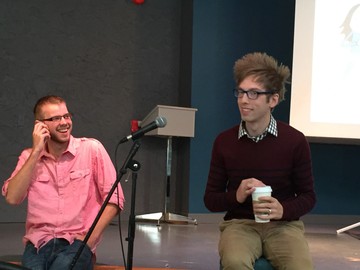 Hey King's!
I hope your first couple weeks back at school have been going smoothly and haven't been too stressful! This past week at King's our Students' Association held a Mental Health Awareness event. Our new Student Counsellor, Zac Berg, chatted about the difference between mental illness and mental health and the importance of staying mentally healthy. After the event we got talking about different stresses related to going back to school/going to a new school and how to deal with them. Here's what Zac had to say:
"It is normal to feel a little anxious about meeting new people. We want to make a good first impression. However, for some students, meeting new people can cause great discomfort. Negative thoughts that can ruminate with students include "What if they don't like me?" "What if I say something stupid?" "What if I make the entire situation awkward?" Often we worry about the worst possible outcomes will happen if the social situation does not go perfectly. So what do we do about it? Here are a few suggestions of ways to handle those situations:"
Look at the facts: The truth is that nobody is perfect. And you don't need this conversation to go perfectly in order to be liked. Just like it takes two to tango, it takes two to have a conversation. You aren't responsible for all of it. It is ok to be a little anxious. Chances are other students are also feeling anxious in social settings.
Breathe:  Don't forget to breathe. Breathe slowly, and as you breathe, try counting to three while breathing in and out.
Positive self talk: Telling yourself positive statements such as "I can do this",  "I will be ok".
Practice: Practice conversations with a friend or by yourself in front a mirror.
Clubs and Events: This can be a great way to meet new people with common interests.
Practice Makes Perfect:  Take opportunities to talk to other people.  Phone a friend or family member, order food at a restaurant or the drinks at the Level, or even ask another student for the time. 
Hope you've found this helpful!
Cheers,
Veronica