Back to Blog
Things I Wish I Knew Before Moving into Residence
Jul 07, 2015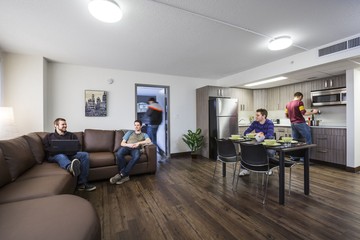 Hey everyone!
Going to university for the first time can be nerve-wracking; there were so many things I wish I knew before I came to King's. So as part 2 of my "Things I wish I knew Before Starting University" series (check out Part 1 here), here is everything you should know before moving into Residence:
1. Get involved – even if it means stepping outside of your comfort zone. King's has tons to offer: clubs, Room 6:01 events, SA activities...try them all!
2. Keep some food in your room. If you're up late studying, you're going to get hungry after the caf is closed. Nobody likes getting hangry (hungry + angry), so keep some food around just in case.
3. Freshman 15 is real. Switching from your mom's cooking to cafeteria food does this; it's a fact, so don't beat yourself up about it.
4. There may be drama in Residence. Try to avoid it; it's never fun, and it's definitely not worth your time or energy.
5. Buy memory foam. Not getting a good night's sleep is frustrating; a memory foam mattress cover will make a huge difference in the comfort level of your bed. Even if you think you don't need it, get it.
6. Paying for laundry is not fun. But you have to do it. Find a laundry partner and wash your stuff together – it will save you money. Even better, if you go home on the weekend take your laundry with you and do it for free.
7. University is a fresh start, so put yourself out there and be social! Even if you were the shy quiet one at your high school, no one knows this – so be outgoing and make lots of friends – living in Residence is one of the best ways to do this.
 Stay tuned for Part 3!
Tara