Back to Blog
TKUSA Club's Fair
Oct 26, 2015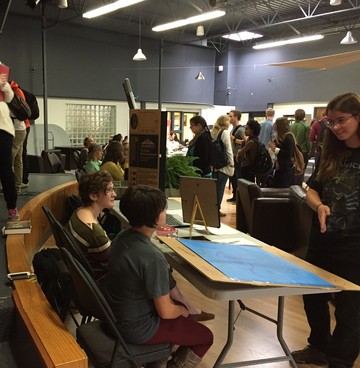 Hey everyone!
This weeks blog is about the annual Club's Fair that happens during the middle of September and is put on by The King's University's Students' Association (TKUSA). The event highlights the various student-run clubs and provides an opportunity to get involved in campus life! 
Take a look below at some of the club's you can look forward to when you come to King's:
1. Painting with Tim
Club members learn to paint with Tim, our Campus Minister, in a community-forming environment. It is a great way to escape from schoolwork and the busyness of everyday life. This club aims to promote fellowship among painters and allows students' creativity to flourish.
2. Swingin' 360
The King's Swing Dancing Club provides students with the opportunity to learn (or improve) their swing dancing skills! As well as weekly lessons and school wide dances every semester, the swing club covers the styles of jive, lindy hop, Charleston, blues and salsa.
3. Zumba
The Zumba Club brings in a professional instructor who leads students in this fun, active and engaging way to stay fit! The club aims to allow people with similar interests to meet and is open to all ages and genders!
4. The King's Science Society (KSS)
The King's Science Society aims to foster an interest in science throughout the King's community! You can also build relationships with science faculty as well as other science students. KSS desires to create an appreciation for, and deepen the understanding of, God's creation.
5. Outdoors and Adventures Club
This exciting club seeks to cultivate a community that enjoys taking part in outdoor activities and fellowships together in God's creation. From skating, ice fishing and skiing, to sledding and cross country skiing, the Outdoors and Adventures Club has many different events planned throughout the year that all students will enjoy!
If you would like to find out more about TKUSA Clubs, click here.
Cheers,
Josh