Back to Blog
What You Can Dooooooooooo At King's This Halloween
Oct 30, 2015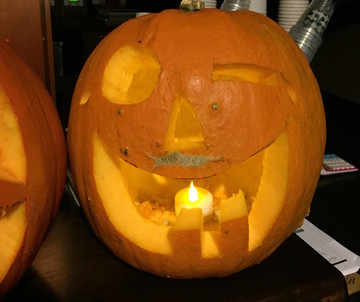 Hey King's!
Wondering what's happening around campus this Halloween and where to sport that great homemade costume? Look no further! King's has lots of seasonal thrills for you to partake in!
TKUSA Monster's Ball
The King's University Students' Association (TKUSA) is hosting their annual Halloween Monster's Ball on October 30th in The Level Coffee House! There will be a pumpkin pie eating contest where students can compete to see who can eat the most pumpkin pie, as well as a pumpkin carving contest! Students can also get their groove on and dance while their costumes are judged by a panel of excellent judges.
Trick or Treat
Don't worry about stepping out into the cold night this Halloween! All around King's offices are putting out candy for any student that dares to stop by! Word on the street is that the TKUSA office, Registration & Student Finance office and Residence office have the best candy!
Residence Activities
Looking for a spook this weekend? The King's University Residence is holding a scary movie marathon on Halloween night in our 501 Media Lounge! Bring your blankets and pillows so you have something to hide behind!
Seasonal Drinks at The Level Coffee House
As the Autumn season comes to an end, this is your last chance to grab a seasonal drink at The Level Coffee House! Sure we're excited to welcome in the Christmas drinks, but there's nothing like a Pumpkin Spice Latte to warm you up on a crisp fall day.
 Have a spooktacular weekend!
Josh