Back to Blog
Why You Should Check Out Open House
Oct 19, 2015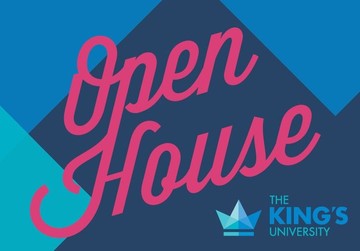 Hey King's!
Hope all is well with you! This week our office is busy preparing for our Open House this Saturday! What's an Open House you ask? It's when we open up the University for prospective students (YOU) to come check it out! Here are 5 good reasons why you should check out a university Open House:
1. Free Applications
When you come to King's on a visit day, whether that be for a King's Encounter Weekend, King's View Friday, or Open House, we waive the $70 application fee, so you get to apply for free! Even better we have Admissions Counsellors available to help you through the application process!
2. Win $1,000
Free money?!?!
That's right! Enter to win $1,000 off your future tuition here at King's! All you need to do is apply for admission and enter a ballot for your chance to win!
3. Pick Up Swag!
Check out the Bookstore to purchase some great King's swag and get into the King's spirit!
4. Talk with Professors and Current Students
During the Open House we have professors who set up booths with information about their discipline. It's a great time to look into your interests and ask the professors any questions you may have! There will also be Ambassadors who are current King's students who can talk to you about their experience at King's!
5. Get to Know the Campus & Residence
Throughout the day we will be hosting a number of different tours of the campus and residence. It's a great chance to get familiar with the school and even to get a sneak peak of a dorm room!
I hope to see you there! You can even have a campus tour with yours truly.
Cheers,
Veronica