Back to Blog
Winter Must Haves Living In Edmonton
Nov 17, 2015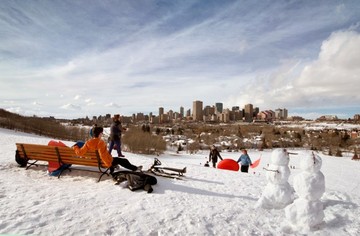 Hey King's!
Now that Winter is quickly approaching, we are having to pull out our winter wear. Living in Edmonton, sometimes the weather gets just a tad bit colder and you have to bundle up in order to stay warm. For the coming winter months, there are certain things that you can't be without. Here are the top five winter must haves if you want to stay warm this winter season.
1. A Good Winter Coat
When many of us were younger, we wanted to look cool rather than trying to stay warm. But now that we are in university, staying warm, and most importantly, not getting sick, is a must have to make it through the cold Edmonton winter months. You want to pick a winter coat that will keep the cold out and the heat in. But that doesn't mean that you can't look good while staying warm.
2. A Nice Warm Pair of Mittens/Gloves
Just because your body is warm, doesn't mean that your hands should be forgotten. A good pair of mittens/gloves will help your hands stay toasty warm and your hands won't become dry and chapped from the dry Edmonton winter weather. Keep the wet and windy away and use some liners to keep those fingers warm.
3. Good Quality Boots
Winter boots are a must have during the cold winter months, and definitely when snow is involved. No one wants to sit in class with cold wet feet. Having some good quality winter boots will help your feet to stay warm and dry. Wearing winter boots though doesn't mean that you can't wear other footwear. You can stash your boots in your locker and pull out those nicer shoes without worrying about having cold feet.
4. A Toque
What says 'Canadian' more than wearing a toque during the winter months? You never want to forget to keep your ears and head warm during those windier winter days. Keeping your head warm will actually help keep the rest of your body warm as well. Plus, if you are having a bad hair day, a toque easily covers it up and no one would suspect anything because it's winter.
5. Layers
Lastly, layers...layers...and more layers. To stay warm during the winter, many of us layer shirts, pants and even socks. No one likes to feel the sensations of frozen toes or knees. But no one wants to have to put their entire closest on in order to stay warm. By layering sensibly, you don't have to look bulky, but instead, you can keep your body dry, insulated and warm from the wind and cold.
These winter must haves are just some of a long list of things you need for the winter season. So don't forget to dress warm for the coming winter months. 
All the best!
Monica