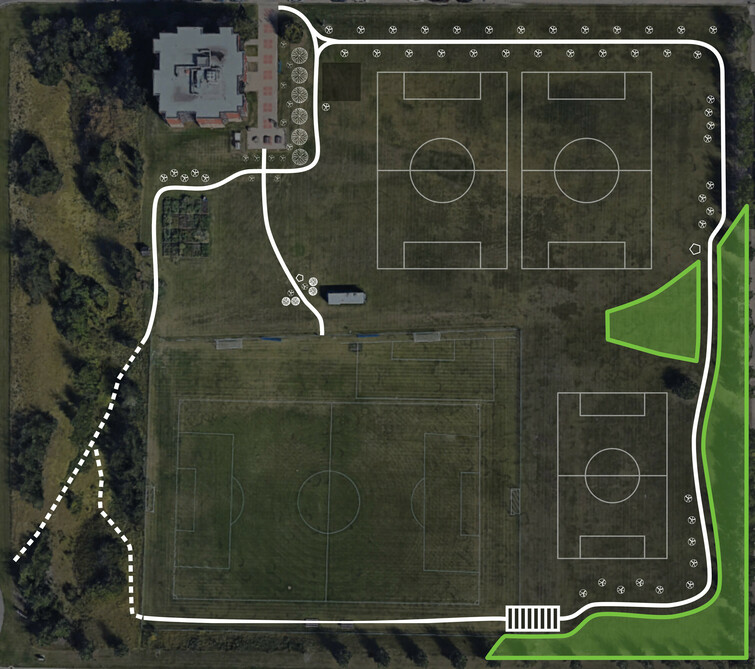 Introducing King's Community Trail
In this ongoing campaign, we're asking our friends, alumni and supporters for gifts towards a new community multiuse trail along the perimeter of the south half of campus.
The Need
With the only significant green space within a 20-minute walk of campus, The King's University Community Trail is a great opportunity to make the naturalized spaces on campus more connected and accessible. It is also a great opportunity to serve our surrounding neighbourhood and community.
The Community Trail is a fantastic addition to the university's strategic goal of developing flexible student experiences—spaces and amenities that enable students to gather, recharge, innovate and enjoy.
Project Highlights
710-metre crushed gravel substrate loop
Connection to soccer field, practice fields, community garden and campus swale
30-riser wooden staircase for fitness and soccer field accessibility
Connection spur to 50 Street active transportation pathway
Donate 1 metre of path or more!
Together we will make King's campus more connected, enjoyable, and active.
Mental Health and Wellness
Spaces to unwind and recharge are important features of modern university campuses and getting outside works wonders for mental health.
The alignment of the Community Trail invites users into nature and into existing campus green spaces such as the swale and 2000 m2 of newly established native mixed woods planted in September 2021.
Fitness and Activity
Opportunities for fitness and activity keep our communities healthy, relaxed and focused. The Community Trail adds a new amenity to campus that students can use for stretching their legs between classes, early evening runs, or enjoying a morning cup of coffee.
With a 6' wide packed gravel-crush substrate, users can walk or run in pairs and groups. The 30-riser staircase offers an opportunity for running stairs or laps outdoors!
Campus Connection
Great university campuses are meant to be explored and The King's University Community Trail will encourage students and neighbours to discover the 20-acre property.
The trail will invite and connect users of the main campus to features such as the new bonfire site (opening Fall 2022), community garden, tree nursery, swale, soccer field, naturalized woodland area (currently under restoration), multiuse fields, and more.