Now Playing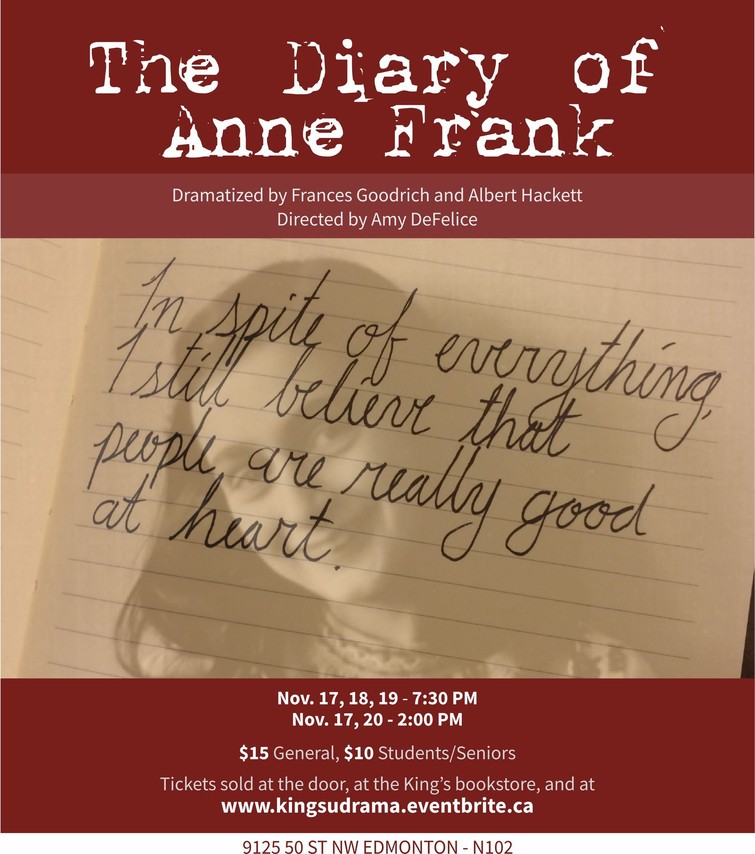 13-year-old Anne Frank, hiding in an Amsterdam attic with her family and a few of their friends during the Nazi occupation and persecution of the Jews, kept a diary glowing with dignity, hope, and humour for two dark years. Only Anne's father survived the death camps. He published Anne's diary, which became one of the most famous books of the 20th century, and a powerful play. Award-winning director Amy De Felice and Professor of Drama Daniel vanHeyst lead the cast and crew of King's drama students.
N102 Theatre, The King's University 9125 50th Street Edmonton AB 
Thursday Nov. 17: 2pm matinee preview performance
Thursday Nov. 17: 7:30pm opening public performance  
Friday Nov. 18:  7:30pm public performance 
Saturday Nov. 19: 7:30 pm public performance
Sunday Nov. 20: 2pm matinee closing performance 
Ticket prices: $15 general admission, $10 students and seniors (not including service fees)
Tickets sold online at Eventbrite, at The King's University Bookstore (780-465-8306), and at the door.