Back to Blog
Found Wanting: Betty Spackman Art Installation
Sep 23, 2015
Location: The King's University
Date & Times: September 23 - Oct. 15, 2015: 7 p.m.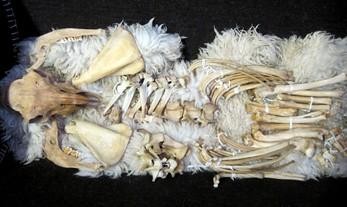 Alberta visual artist and writer Betty Spackman (MFA) created a 3000sq.ft. exhibition Found Wanting, A Multimedia Installation Regarding Grief and Gratitude which was featured in 2010 at The Penticton Art Gallery and in 2011 at The Reach Gallery in Abbotsford. The show contains hundreds of found and donated animal bones, most collected in Alberta.  Over a five-year period they were collected, cleaned and prepared for exhibition. The care of these bones was in fact the essence of the artwork, which meant to honour each fragment, and recognize, among other things, that in our relationship to animals, there is never a feast without a sacrifice. An introduction to the exhibition can be viewed at http://vimeo.com/13752690
Significant portions of the original Found Wanting exhibition will be displayed in The North Academic Lounge at The King's University. The artist will be in attendance at the Wed. Sept. 23 7 p.m. opening event. A special added feature of the evening is folk/gospel/roots musician Jeanine Noyes, who will perform music composed for Found Wanting. 
Found Wanting was brought to Edmonton through the generous support of The Chester Ronning Centre for the Study of Religion and Public Life, and The Leder Family Foundation.