Back to Blog
Ripped Apart, Stitched Together
Mar 12, 2015
Location: The Atrium
Date & Times: March 12 - April 30, 2015: 7:30 p.m.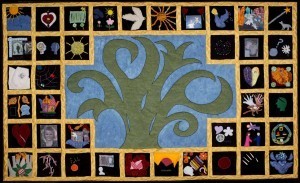 When artist Gerald Vaandering and his wife Dr. Dorothy Vaandering (who teaches ethics in education at Memorial University) moved to St. John's a few years ago, they were disturbed by the local newspaper's practice of running daily photographs of some person who had been arrested and handcuffed by the police on the front page. The idea was to shame the prisoners, whether or not they were guilty of whatever they were being arrested for. This bothered them so much that they decided to cut out the photos every day for a year, and then they put them all together in a collage that spans 24 feet.  Then Gerry screen-printed images of handcuffs over the collage.  They paired this work of art up with a The Justice Quilt, commissioned by The Church Council on Justice and Corrections. Meagan O'Shea and Susie Shantz sewed a quilt made from 40 patches of symbolic descriptive images produced by victims and offenders from across Canada. A touch on any patch activates a two minute audio testimony by its designer, describing the sorrowful event that took place in his/her life – fifteen stories in French and twenty-five in English.
The King's University art program is collaborating with The Micah Centre's De Groot Lecture Series, The Mennonite Central Committee's Alberta restorative justice program, The Newfoundland Arts Council, and The Church Council on Justice and Corrections to present Ripped Apart, Stitched Together.