Back to Blog
Sarah (Gieck) MacDonald & Leanne Regehr
Nov 17, 2018
Location: Nicholas B. Knoppers Hall
Date & Times: November 17, 7:30 p.m.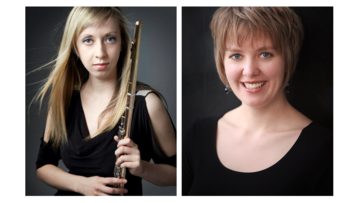 The King's University Department of Music is proud to present a concert featuring flutist, Sarah (Gieck) MacDonald, and pianist Dr. Leanna Regehr. Sarah is the acting assistant principal flute for the Calgary Philharmonic Orchestra and a sought after chamber musician. Leanne is well known for her work with all of Edmonton's Opera Companies, and for her numerous collaborative and solo recitals.
The program includes: a Sonata by Telemann that is remarkably beautiful in it's simplicity; a work for solo flute by Canadian composer Katherine Hoover that creates an ethereal mood as it conveys the sound of a flute echoing through great canyons and cliffs; Bartok's unique way of harmonizing Hungarian folk tunes is heard in the Suite Paysanne Hongroises; the Denisov Sonata, a darkly beautiful and dramatic piece; and the Sonata Latino, which is full of groovy latin rhythms that will make you want to get up and dance!