King's signs historic agreement with Newman Theological College
Posted on April 18th, 2013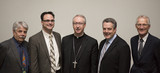 The King's University College, through a historic agreement with Newman Theological College, now offers Bachelor of Education students the religious education courses necessary to be eligible for a continuous contract with the Edmonton Catholic School District. King's Vice President Academic Dr. Hank Bestman and Newman Theological College. President and Academic Dean Dr. Jason West signed a Memorandum of Agreement that allows King's B.Ed. students to complete the academic courses required through Newman Theological College.
"I'm confident that this landmark agreement will enrich the educational experience and deepen the spiritual growth of King's B.Ed. students," says President Dr. Harry Fernhout. "I applaud Dr. Bestman's pursuit of this agreement for the long-term benefit of students."
In the fall of 2012 Dr. Bestman approached Newman Theological College to develop a partnership that would allow B.Ed. students to complete religious education courses through Newman. King's students register for these courses through King's registration process. The Newman courses count towards the King's B.Ed. degree.
For Dr. Bestman this agreement is more than just an understanding to share academic courses. "As part of ongoing outreach to various Christian communities in Edmonton and across Alberta, King's is pleased to be partnering with Newman Theological College and continue to build our relationship with the Roman Catholic community," says Dr. Bestman.
King's offers a two year Bachelor of Education After-Degree in elementary and secondary education. Students develop the knowledge, skills and attributes required of teachers in today's complex school environment. The program includes 17 weeks of teaching practicum and graduates qualify for teacher certification in Alberta, across Canada and abroad.