Do Justice Week
Faculty Panel: Making Things Right
Date: Monday, October 22
Time: 12:00 pm
Location: The Level
Listen to King's Faculty reflect on their personal journeys of justice, and how you can respond to the call to "do justice" in your own lives. Snacks will be provided by the SA
Featuring: 


Date: Tuesday, October 23
Time: 2:00 pm
Location: Oak Room
The Blanket Exercise was developed in partnership with Indigenous elders, to bring awareness, knowledge, and reconciliation between Indigenous and Non-Indigenous people.
Michelle Nieviadomy, from the Native Healing Centre in Edmonton, will running the blanket exercise.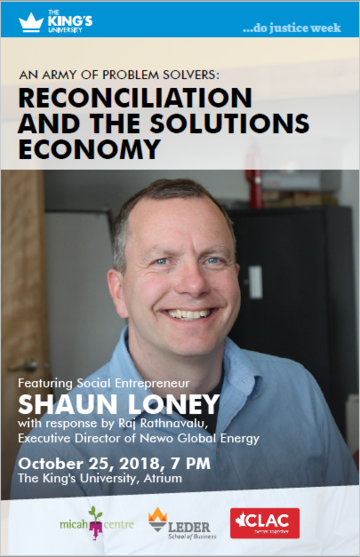 A discussion with Shaun Loney
Date: Thursday, October 25
Time: 7:00 pm
Location: The Atrium
You are invited to consider how our communities can creatively and practically address issues of reconciliation and justice. The Micah Centre, along with the Christian Labour Association of Canada and the Leder School of Business, will be hosting Shaun Loney, author of 'An Army of Problem Solvers: Reconciliation and the Solutions Economy', to discuss how businesses, entrepreneurs, and citizens can together address some of our most pressing needs. Questions? Contact Jonathan Nicolai-deKoning, Program Director at The Micah Centre. All are welcome.
Shaun Loney will also be presenting to King's business students at 12:30 PM in room N101 on October 25 - All are welcome to attend this presentation as well.
Taking Action
Date: Friday, October 26
Time: 12:00 pm
Location: The Level
The Centre for Public Dialogue will be presenting their campaign for Education Together.
Education Together advocates for adequate, and equal  funding for Indigenous children, and schools. As well as full engagement amongst communities, and elders.