Book list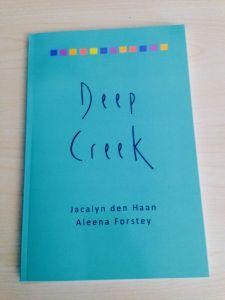 Deep Creek is a book of poetry and photography that tells the story of a journey to Quebrada Honda, Honduras, while exploring the themes of time, change, and love. 
Jacalyn den Haan wrote the poetry while the photos were taken by Aleena Forstey. Both women were part of the 2014 Honduras Water Project team that went to the rural community Azacualpa, located within the department of Choluteca. It is about 19 km from the town of El Triunfo, along the Pan-American Highway on the way to Nicaragua. This village is only accessible by dirt road. The population totals about 3,400 inhabitants distributed throughout 326 households in 12 neighbourhoods. The Project took place in Azacualpa, specifically in the neighbourhood called Quebrada Honda (Deep Creek). The community had already drilled a well with the capacity of 60 gallons per minute. This source will satisfy the water needs of 42 families, which includes nearly 250 individuals, as well as the local elementary school. The team spent 19 days living, learning and working with the local community in the construction of the water system.
Books are $20 or $15 for students.
"'Quebrada Honda' in English means deep gorge or creek. This collection is a reflection of a learning trip that Aleena and myself took to the village of Quebrada Honda in May 2014. In that month, both the villagers and our team were together drawn into hope and new life. These sentiments were paired with our own sense of frustration with the passivity of our home culture in Canada and with the plight of many Hondurans, who because of their poverty cannot pay for education and because of their corrupt government have no access to medical care or a proper police force.

This book seeks to explore the space between these opposites: the possibility of rebirth we found in a country plagued with gang violence, the richness of life in one of the poorest countries in the world, the power of God to allow affluent North Americans to serve our Honduran friends who lack resources.

This book asks questions and does not try to provide answers. We pray these questions will draw readers in and bring them to a renewed awareness of their own place within this world and their call to wash the feet of the poor." -Jacalyn den Haan