Message from the Dean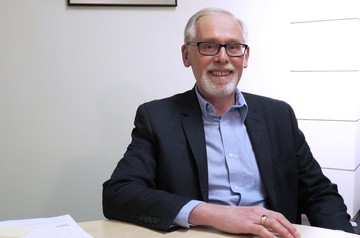 Have you wondered about a career in teaching?
Now is the time to apply to the B.Ed. program offered at The King's University. The King's B.Ed. is a two-year after-degree program leading to a Bachelor of Education and teacher certification in either elementary or secondary education. The focus and depth of a B.Ed. after-degree helps you succeed in the classroom.
Why be a teacher?
Teaching is an ethical profession rooted in an impulse to care about students and their growth. Through relationships and curriculum, teachers work with their students to cultivate humanity. If that kind of work satisfies your sense of what makes a worthy life, then you are needed in teaching.
You are needed as a teacher if you discover within yourself a desire to contribute to the lives of children and young people. You are needed because, with our fast growing young population, Alberta needs more teachers. This is a fact determined by the Alberta Education Workforce Planning.
Why choose King's?
Of our 2014 B.Ed. graduates who pursued a job in teaching, 95% have jobs in education. That level of success testifies to the quality of our graduates and the education they received. Our elementary program has 20 years of consistent achievement, and our innovative secondary program has several successful years behind it as well.
Our graduates are prepared for a wide variety of schools. As a faith-based program, we understand that faith matters in education. Whether our students intend to teach in public, Catholic, faith-based Protestant, or any kind of school, they will be prepared.
The King's University education program has a solid reputation with schools and school boards because our graduates make a difference in the lives of students. With a B.Ed. from King's, you can feel confident your degree will stand out, and you will be well-prepared as a beginning teacher.
How does King's prepare you to be a good teacher?
Community
We approach every class as a learning community where students learn not only from their professors, but also from their peers. You will take many classes with your cohort, and it will become a base of support from your first day in the program to your last—and perhaps beyond.  
Currency
You will be taught by professors who have successful teaching experience in elementary and secondary classrooms and a practical understanding of what makes classrooms work. Our professors supervise student teaching practicums themselves, keeping them in touch with what is happening in schools. In your education classrooms, you will experience the same teaching strategies you are being taught to use. What you need to be able to do will be directly modelled for you.
Real school experiences
You will be mentored by strong teachers practicing in the field. You will take week-long modules on various aspects of the elementary and secondary curriculum taught by master teachers. You will have a total of 17-18 weeks of student teaching practicum in the program—one of the longest teaching practicums offered in Alberta. We carefully match you with a mentor teacher so you can make the most of the practicum experiences.
Challenge
You will experience a faith-based program at King's that is generously open to students of all faiths, as well as students who profess none. Just as we are open to all kinds of students, we prepare students for all kinds of schools. Our graduates are successful in public schools, alternative public schools, Catholic schools, various types of Protestant Christian schools, various other types of independent schools, and more. We make space to foster faith because we see how it shapes teaching.
Commitment
One of the best reasons to choose King's is because we are committed to helping you discover the kind of teacher you want to be. We do more than encourage you to choose to be a firm teacher or a kind teacher, a solemn teacher or a funny teacher.  Since good teachers cultivate humanity, you will need to consider what it means to be human. If teachers are to inspire students to aim for a worthy life, teachers themselves need a vision for what it means to flourish as human beings. As members of the King's Faculty of Education, we share a vision of humanity flourishing rooted in what we believe. We will encourage you to discover what you believe and to do likewise.
Dean of the Faculty of Education
The King's University