Lisa DeMoor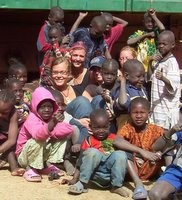 The PHE program appealed to me because of my interest in social justice and public policy. It provided a broad picture of political and economic life both nationally and internationally, as well as the tools and knowledge-base necessary to engage in and work for justice in Canada and beyond.
From the marble steps of the Alberta Legislature to the red dirt of West Africa, the broad background of the PHE degree allowed me to explore my own broad interests. Since graduating, my degree provided me the background knowledge to work for justice locally during a summer contract with an Albertan political party. I also credit this degree with giving me the chance to spend eight months working in Canadian foreign policy advocacy with a peace building NGO in Ottawa. The flexibility of the program and the courses also allowed me to focus on development issues in Sub-Saharan Africa, which definitely came in handy when what I had learned in class and in books came to life during a six-month CIDA internship in The Gambia.
The PHE degree and its broad interdisciplinary nature was a springboard into further work and education opportunities that will prove to be invaluable in training me for work on the international stage. Further, the PHE course-work, faculty, and broader King's environment, taught me about the intrinsic call to social justice within the Christian life and challenged me to work for Shalom in our economic and political systems in this often broken world.
Since graduating from the PHE program, Lisa completed an M.A. degree at the Norman Paterson School of International Affairs, Carleton University, Ottawa. After working for the Canadian International Development Agency in Ottawa for several years, Lisa accepted a position in Nigeria, working with CIDA's child and maternal health programs.