Steven Brese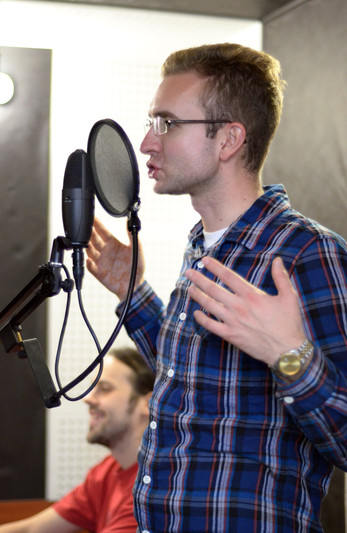 I get up. It's 6:30 pm and for the sec­ond straight week there's no hot wa­ter. This usually isn't a huge problem, but the power is out, so boiling water is out of the question. Cold showers aren't the end of the world, but my milk is going to go bad soon, and I have to put a towel in front of the refrigerator in case this is a long outage.
Listening to the news on my way to work in Ukraine's cap­ital, Kyiv, it sounds like it's going to be an especially busy night. Five Israelis have been killed in Bulgaria in what sounds like a terrorist attack. Sus­picions confirmed half an hour later: I walk into the newsroom, and it's the only story that matters at the moment--likely the only story that will matter for the next few days. A suicide bomber has killed five Israelis on a tour bus in Burqas. It's going to be a long night at the TV station.
Six years ago, I was sitting in Dr. Hiemstra's Introduc­tion to Political Sci­ence. Six years on, my hours spent lis­tening to Dr. Vaudry lecture about parades or Dr. Beukes forecast the end of the world if the students at King's didn't do something about it, time in the hallowed halls of my alma mater can sometimes seem like a small blip, especial­ly when it's 3:45 a.m. and I'm madly editing video for one of my jour­nalist's pieces about Iran and Hezbollah being responsible for the suicide bomb at­tack.
But when I stop and think about it, about how I made the choice to study at the little university on 50th street and study in a relatively obscure program of Politics, History, and Econom­ics, I realize my choice has opened doors for me, not just in Cana­da, but all around the world.
The PHE program is special. I realize now that my degree equipped me with tools that are dif­ferent from of those my colleagues. I ap­proach issues, not from just the lens of a political scientist, but from someone who has been taught how to see the over­lap, to see how issues are never strictly re­ligious, political, or economic and that there are plenty of in­terests at stake. Lots of people know how to gather information and talk about what they found; I like to think I know how to do something with that information af­ter I've got it. To talk about what it means for Israel now that it's been attacked. To talk about why it happened and what precipitated this event. And although this might seem trivi­al, it is absolutely criti­cal to be able to pres­ent my ideas clearly.
What sometimes can seem like a small blip in the wee hours of the morning at a TV station in Eastern Europe, my PHE de­gree has set me apart from other employ­ees and given me the opportunity to excel in a very cool job on the other side of the world.
After graduating from King's in 2009, Steven earned a MA from the University of Lon­don (UK) in Contemporary Ethics. He now lives in Kyiv, Ukraine where he works as a newsroom editor for a new TV channel called Jewish News One.