Trixie Ling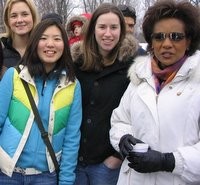 I wanted to take the PHE program because of its unique multidisciplinary focus on the three areas of study that interest me most. This major allowed me to deepen my understanding of many pressing issues. My interest in international development, public policy, and social justice, both on the local and international scene, made the PHE program an excellent desirable foundation for further education and work opportunities.
One of the highlights of my degree was the opportunity to do an off-campus study for a semester and an internship in Ottawa. My time at the Laurentian Leadership Centre allowed me to apply what I learned at The King's University to the real world and to see very practically how my faith integrates into public life. I received credits toward my degree for doing an internship with the Canadian Council for International Cooperation, a non-governmental organization.
I also had the opportunity to work in the summer months for the "Make Poverty History" campaign, advocating for more and better aid, trade justice, debt cancellation, and an end to child poverty in Canada.
In the past few years of studies, I have grown in my thinking and been challenged in how I see the world and the complex issues that surround us each day. The faculty and supportive community at The King's University enriched my experience while working on the PHE program.
After graduating from PHE, Trixie worked as a Public Policy Intern with Citizens for Public Justice in Ottawa, a national policy organization that advocates for policies reflecting God's call for justice, love, and stewardship. She then completed a Master of Public Policy degree at Simon Fraser University in Vancouver and wrote her thesis on the social and economic impacts of language barriers for Chinese immigrant women in Metro Vancouver. Trixie lives in Vancouver and works for the Canadian Mental Health Association, B.C. Division as a Project Manager for "Connecting the Dots," a project that promotes the mental health of urban Aboriginal youth and families in British Columbia. Trixie also serves as a Board of Director at The King's University and a Board Member for Co:Here Housing, a non-profit organization that provides supportive and affordable housing in intentional communities in East Vancouver.