Adele Cupido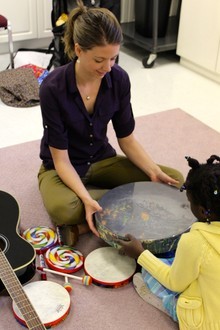 Alumna Adele Cupido brings together her undergraduate training in music and psychology in a seamless duet to help children as a music therapist working in Edmonton, Alberta.
Adele's work includes helping children work through challenges to progress into a daily routine. She explains that music gives children an outlet for expression and a means to work through obstacles.
After graduating from King's where she completed a double major in psychology and music, she began the Music Therapy program at Capilano University in North Vancouver, British Columbia. It is one of only six institutions in Canada to offer a music therapy program. The highly competitive five-year degree includes an intensive internship and in-depth case study.
Cupido hopes to get her masters in Counselling, as well as complete training to become a music therapist in the Neonatal Intensive Care Unit.