Books
Students involved at The Micah Centre ask big questions about the state of the world and their role in it as followers of God's upside-down kingdom.  In our Micah Centre office, we have a bookshelf full of books to help students navigate those questions.  Here are a few of them.
Recommended Books
Live Justly: Micah Challenge
World Renew (2014)
"Live justly is an in-depth scriptural and practical study to help people live justly in 6 keys areas of life: advocacy, prayer, consumption, generosity, creation care, and relationships".
Micah's Challenge: The Church's Responsibility to the Global Poor
Jim Wallis, Tony Campolo, and Ronald Sider (2009)
"'He has shown you, O man, what is good. And what does the Lord require of you? To act justly, to love mercy, and to walk humbly with your God'. This is Micah's challenge to Israel in his day and to the Church in our day. God calls us to act with justice, mercy, and humility towards the poor. This book practically pulls together prophetic voices to explore the theological, ethical and practical dimensions of Micah's Challenge."
Serving with Eyes Wide Open
David A. Livermore (2013)
"Short-term missions trips are a great way to impact the kingdom. Yet they can lack effectiveness because of mistakes or naivete on the part of participants. In this insightful book, David A. Livermore calls us to serve with our eyes open to global and cultural realities so we can become more effective cross-cultural ministers."
When Helping Hurts: How to Alleviate Poverty without Hurting the Poor and Yourself
Steve Corbett and Brian Fikkert (2012)

"Good intentions are not good enough. Unleashing and equipping people to effectively help the poor requires repentance and the realization of our own brokenness. When Helping Hurts articulates a biblically based framework concerning the root causes of poverty and its alleviation."
Walking with the Poor: Principles and Practices of Transformational Development
Bryant L. Myers (2011)
"In this revised and updated edition of a modern classic, Bryant Myers shows how Christian mission can contribute to dismantling poverty and social evil. Integrating the best principles and practice of the international development community, the thinking and experience of Christian nongovernmental organizations (NGOs), and a theological framework for transformational development, Myers demonstrates what is possible when we cease to treat the spiritual and physical domains of life as separate and unrelated."
Beyond Homelessness: Christian Faith in a Culture of Displacement
By Steven Bouma-Prediger and Brian J. Walsh (2008)
"This book goes far beyond covering the subject of homelessness as the social problem we all recognize in our cities. Mass emigrations, displaced families, and human alienation from the earth all mark our times. In critiquing contemporary North American culture, Steven Bouma-Prediger and Brian Walsh discuss various forms of homelessness -- socioeconomic, ecological, and psycho-spiritual -- and creatively show how biblical attentiveness and Christian faith can heal the profound dislocations in our society."
Toxic Charity: How Churches and Charities Hurt Those They Help and How to Reserve It
Robert D. Lupton (2011)
"Veteran urban activist Robert Lupton reveals the shockingly toxic effects that modern charity has upon the very people meant to benefit from it. Toxic Charity provides proven new models for charitable groups who want to help—not sabotage—those whom they desire to serve. Lupton, the founder of FCS Urban Ministries (Focused Community Strategies) in Atlanta, the voice of the Urban Perspectives newsletter, and the author of Compassion, Justice and the Christian Life, has been at the forefront of urban ministry activism for forty years. Now, in the vein of Jeffrey Sachs's The End of Poverty, Richard Stearns The Hole in Our Gospel, and Gregory Boyle's Tattoos on the Heart, his groundbreaking Toxic Charity shows us how to start serving needy and impoverished members of our communities in a way that will lead to lasting, real-world change."
A Theology of Liberation
Gustavo Gutierrez (1988)
"This powerful, compassionate and radical book attracted criticism for daring to mix politics and religion in so explicit a manner, but was also welcomed by those who had the capacity to see that its agenda was nothing more nor less than to give "good news to the poor", and redeem God's people from bondage."
Engaging Globalization: The Poor, Christian Mission, and Our Hyperconnected World
Bryant L. Myers (2017)
"Globalization is speeding up our world, extending our relationships globally and bringing us closer together in positive and not-so-positive ways. The church and many Christians, however, remain largely unaware of its seductive power, resulting in a failure of vision for mission in today's world. This up-to-date resource by a veteran leader in global development work with World Vision orients readers to the history of globalization and to a Christian theological perspective on it, explores concrete realities by focusing on global poverty, and helps readers reimagine Christian mission in ways that announce the truly good news of Christ and God's kingdom."
Advocating for Justice: An Evangelical Vision for Transforming Systems and Structures
Stephen Offutt, F. David Bronkema, Krisanne Vaillancourt Murphy, Robb Davis, and Gregg Okesson (2016)
"Christians are increasingly interested in justice issues. Relief and development work are important, but beyond that is a need for advocacy. This book shows how transforming systems and structures results in lasting change, providing theological rationale and strategies of action for evangelicals passionate about justice. Each of the authors contributes both academic expertise and extensive practical experience to help readers debate, discuss, and discern more fully the call to evangelical advocacy. They also guide readers into prayerful, faithful, and wise processes of advocacy, especially in relation to addressing poverty."
Just Peacemaking: Ten Practices for Abolishing War
Glen Stassen (1998)
"Pacifism and just war theory, despite their noble purpose, have taken a horrible toll on the world of the past century. While debate has focused on whether or not to wage war, we have witnessed two world wars, the specter of nuclear annihilation, and the wholesale extermination of peoples, as well as numerous other conflicts with equally tragic results-- all the time overlooking the positive, and practical steps we can make towards peace. Enter Just Peacemaking. Mapping a course for individuals, groups, voluntary associations, and religious organizations- and showing people how to fan the flames of peace."
An Army of Problem Solvers: Reconciliation and the Solutions Economy
Shaun Loney (2018)
"First Nations reconciliation has to include rebuilding local economies. Problem solvers such as social enterprises, social entrepreneurs, and the small farm movement are demonstrating we can tackle society's most stubborn problems affordably. How do we reinvent government to make it all happen?"
The Open Secret: An Introduction to the Theology of Mission
Lesslie Newbigin (1995)
"Aimed at bringing contemporary concerns in mission theology to a wide-reading public, this volume flows from Newbigin's extensive experience in the mission field and from lectures developed especially to prepare men and women for missionary service. Newbigin describes the Christian mission as the declaration of an open secret—open in that it is preached to all nations, secret in that it is manifest only to the eyes of faith. The result is a thoroughly biblical attempt to lead the church to embrace its Christ-given task of presenting the gospel in our complex modern world."
Welcoming Justice: God's Movement Towards Beloved Community
Charles Marsh and John Perkins (2009).
"We have seen remarkable progress in recent decades toward Martin Luther King Jr.'s dream of beloved community. But this is not only because of the activism and sacrifice of a certain generation of civil rights leaders. It happened because God was on the move. Historian and theologian Charles Marsh partners with veteran activist John Perkins to chronicle God's vision for a more equitable and just world. Perkins reflects on his long ministry and identifies key themes and lessons he has learned, and Marsh highlights the legacy of Perkin's work in American society. Together they show how abandoned places are being restored, how divisions are being reconciled, and what individuals and communities are now doing to welcome peace and justice. The God movement continues yet today. Come, discover your part in the beloved community. There is unfinished work still to do."
Rich Christians in an Age of Hunger: Moving from Affluence to Generosity
Ronald J. Sider (2005)

"When Ron Sider Rich Christians in an Age of Hunger first appeared twenty-eight years ago, it shook readers to the core. Informed about the issues of world hunger and poverty, they could no longer ignore the plight of their global neighbors. This thoroughly revised edition of Sider's best-selling book outlines the progress that has been made in the last three decades-- and the work that is still left to do. Every day 30,000 children still die of starvation and preventable diseases, and 1.2 billion people live in relentless, unrelieved poverty worldwide. Why is there still so much poverty? Conservatives blame sinful individual choices, and laziness. Liberals condemn economic and social structures. Who is right? Who is wrong? Both, according to Sider, who explains poverty's complex causes in this new edition and offers concrete, practical proposes for change."
Hearing the Call: Liturgy, Justice, Church, and the World
Nicholas Wolterstorff (2011)

"Nicholas Wolterstorff has been intensely engaged with the issues of liturgy, justice, and how to live faithfully as a Christian in the world. Hearing the Call brings together more than thirty of Wolterstorff's most enduring and influential popular and semi-popular articles from the last fifty years in a wide-ranging volume that highlights his ongoing role as one of the church's most incisive and compelling voices."
Laudato Si': Praise be to You, Encyclical Letter of the Holy
Father Francis (2015)
"In his encyclical Praise Be to You (Laudato Si'), Pope Francis challenges all people to praise and thank God for his glorious creation and to work together to safeguard her.Popes Benedict XVI, John Paul II, and Paul VI addressed key themes regarding stewardship of God's creation, but Francis is the first to devote an entire encyclical to the subject. The encyclical takes its name from Saint Francis of Assisi's Canticle of the Creatures, which depicts cre­ation as "a sister with whom we share our life and a beautiful mother who opens her arms to embrace us". Pope Francis declares, "This sister now cries out to us because of the harm we have inflicted on her by our irresponsible use and abuse of the goods with which God has endowed her. "Francis calls for an "integral ecology" based on what Pope Saint John Paul II called an "ecological conversion"—a moral transformation linking the proper response to God for the gift of his creation to concern for justice, espe­cially for the poor. He challenges people to understand ecology in terms of the right ordering of the fundamen­tal relationships of the human person: with God, oneself, other people, and the rest of creation."
Living Towards a Vision: Biblical Reflections on Shalom
Walter Brueggemann (1982)
"A classic set of biblical reflections on peace and on the church's role to foster peace in the world."
To Live in Peace: Biblical Faith and the Changing Inner City
Mark R. Gornik (2002)
"How are Christians to understand and respond to our distressed inner-city communities? Building on both the perspective of God's new creation and the view from the neighborhood, Mark R. Gornick's To Live in Peace shows how the life of the church, the strategies of community development, and the practices of peacemaking can make a transformational difference."
The Careless Society: Community and its Counterfeits
John McKnight (1995)
"Amid all the hand-wringing about the loss of community in America these days, here is a book that celebrates the ability of neighborhoods to heal themselves from within. John McKnight shows how competent communities have been invaded and colonized by professionalized services--with often devastating results. Overwhelmed by these social services, the spirit of community falters: families collapse, schools fail, violence spreads, and medical systems spiral out of control. Instead of more or better services, the basis for resolving many of America's social problems is the community capacity of the local citizens."
Unsettling the Word: Biblical Experiments in Decolonization
Steve Heinrichs (2018)
"For generations, the Bible has been employed by settler colonial societies as a weapon to dispossess Indigenous and racialized peoples of their lands, cultures, and spiritualities. Given this devastating legacy, many want nothing to do with it. But is it possible for the exploited and their allies to reclaim the Bible from the dominant powers? Can we make it an instrument for justice in the cause of the oppressed? Even a nonviolent weapon toward decolonization? In Unsettling the Word, over 60 Indigenous and Settler authors come together to wrestle with the Scriptures, re-reading and re-imagining the ancient text for the sake of reparative futures. Created by Mennonite Church Canada's Indigenous-Settler Relations program, Unsettling the Word is intended to nurture courageous conversations with the Bible, our current settler colonial contexts, and the Church's call to costly peacemaking."
Globalization, Spirituality, and Justice: Navigating the Path to Peace
Daniel G. Groody (2015)
"A theological reading of globalization and a global reading of theology. This book offers a rigorously critical, and yet inspiring, vision of justice as an integral part of Christian spirituality in our complex, globalized world. At the same time, Daniel Groody's analysis draws on the conviction that faith and spirituality have an integral role in the struggle to achieve a more just social order."
Written by Micah Students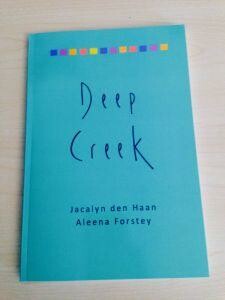 Deep Creek 
A book of poetry and photography that tells the story of a journey to Quebrada Honda, Honduras, while exploring the themes of time, change, and love. The poetry was written by Jacalyn den Haan and the photos were taken by Aleena Forstey. Both women were part of the 2014 Honduras Water Project team that went to the rural community Azacualpa, located within the department of Choluteca. The book seeks to explore the space between these opposites: the possibility of rebirth we found in a country plagued with gang violence, the richness of life in one of the poorest countries in the world, the power of God to allow affluent North Americans to serve our Honduran friends who lack resources.