Back to Blog
Courage, Curiosity, and Internships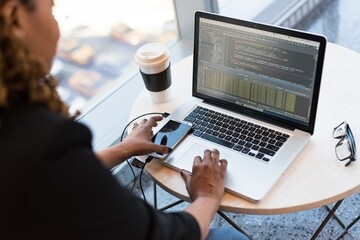 Tetyana Khramova, the Centre for Career and Calling's Work Integrated Learning Coordinator, explains how internships and practicums develop your skills and confidence. You just need to be curious and courageous.
During the recent King's Interdisciplinary Studies conference, Witty Sandle, the Centre for Career and Calling's Career and Vocational Counselor, delivered a presentation where she asked, "what are you going to do when you graduate?" She highlighted the importance of having "a spirit of curiosity and courage." [1]
Based on my experience as a Work Integrated Learning Coordinator at King's, I want to continue the themes Witty introduced by focusing on the value of undertaking some form of professional work experience. Applying and succeeding in those opportunities requires curiosity and courage. You may not feel you are ready, or you worry about what the professional work environment might be like. I can tell you that any kind of work integrated learning will teach you and shape you in ways you do not always realize beforehand.
I gathered some feedback from students who have participated in practicum and internship projects. I hope their voices will motivate and inspire you.
"The most important lesson I have learnt during this process, [fall 2020 project], is taking the time to understand the scope of any project before starting it… I have also learned that communication and performance skills are equally as important as technical skills."

Mekdelawit Messele, 3rd year computing science student.
"I have definitely learned that the accounting industry fits me because each day did not feel like an eight-hour shift. I enjoyed my work which meant the days -and the whole internship experience, [summer 2020 internship], passed very quickly. I discovered how much I enjoy undertaking challenges and working on them until they are solved… It is also important for an accountant to have integrity, trustworthiness and honesty in their work and I can see these traits in myself."  

Jenae Charlebois, 4th year business student.
It's impressive how these students grew through their practicums. Both these students show how being curious about learning – whether it's technical skills or discoveries about themselves, yield fruit. You also need to be brave enough to take the initiative and try some things out. I encourage all students to apply for professional opportunities when they arise. They may take the form of full- blown summer internships, such as the one highlighted below from Samaritan's purse, or be shorter project- based opportunities such as doing some research for a professor. You never know where your work experiences may lead.
How do I find these opportunities and succeed?
A good question. It can be challenging but it's not impossible. Former King's student, Craig Panek, offers some advice in a video he made, where he shares some tips on getting and succeeding in an internship program. [2].
Here are three take-aways from Craig's experience.
Show genuine interest in the organization by doing your research during the hiring process.
Succeed at an interview by understanding the organization's values and expectations. For example, where Craig works, they want people who are "humble, hungry, and people smart."
Show what value you can bring to an organization or project. In Craig's case, it was his social media familiarity, skills and knowledge that the younger generation naturally have.
The King's Job Registry [3], is a great starting point for finding internships. One current example of a posting is a summer Internship program with Samaritan's Purse. [4]. Claire Pettit, who serves on the Campus Relations team at Samaritan's Purse started her own career with the organization as an intern.
"My internship allowed me to apply the skills that I had learned in my courses at college within the context of a non-profit ministry. Not only was I given projects and tasks that challenged me, but I was encouraged to pursue my calling to share the gospel through a professional lens and given the resources to do so… The internship … gave me the skills necessary to be competitive in applying for a full-time role."
To hear more about Samaritan's Purse, you can check out a video Claire made. [5]
In conclusion, you are surrounded by opportunities and supportive communities that want you to succeed. Will you be curious and courageous enough to have a go? The CCC is on hand to help you out. Why not book an appointment as a first step.[6]