Fall & Winter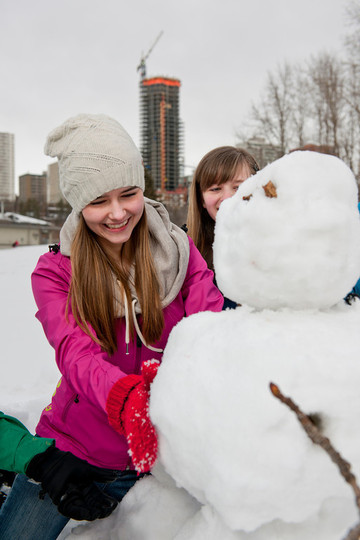 Edmonton Corn Maze (Summer-October)
Edmonton has been offering a 10 acre corn maze for 14 years now. The design is changed every year to keep the mystery going! Not only can you enjoy this maze (that can take as little as 30 minutes if you don't take any wrong turns!), but there's also tractor rides, jumping pillows, pedal carts, farm animals and spud cannons!
Christmas in the Square Light Up (November)
Start off the Christmas season by celebrating in Churchill Square! Enjoy a variety of activities, food vendors, live entertainment, fireworks and of course the countdown to the lighting of the massive Christmas tree!
Craft Sales (November & December)
There are too many craft sales to count here in Edmonton! Most of them are in November and a few in early December, just in time to pick up some unique Christmas gifts! Here are just a few of the craft sales: Butterdome Craft Sale, Royal Bison Art & Craft Fair, Vintage Vixon, Indie Handmade, Annual Winter Pottery Sale and Make it Edmonton.
Candy Cane Lane (December-January)
Take a walk down Candy Cane Lane and prepare to be awed by the numerous  Christmas lights along with other unique decorations. Location: 148th St (between 92nd & 100th Ave). 
Christmas Reflections (December)
Head over to Fort Edmonton Park and step back in time to experience Christmas the way Edmontonians did over a century ago. Listen to stories, have some fun and even make time for a Christmas sleigh ride! 
Star Gazing
What better way to spend a winter night than looking at the stars? Some of the best locations to see the stars above are the Telus World of Science Observatory, the U of A Observatory (free star gazing Thursday's) or Elk Island. You never know what you might see, fingers crossed you'll see the aurora borealis! Sign up to get e-mail notifications from AuroraWatch, and the U of A Observatory will alert you when the next aurora will be visible!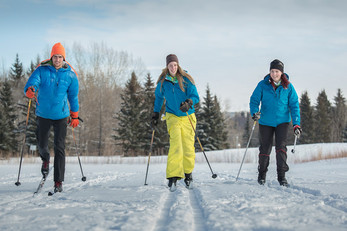 Cross-Country Skiing
Edmonton is full of cross-country ski trails! Head out to places like Kinsmen Park or look up the full list on the City of Edmonton's webpage. Haven't been cross-country skiing before? Sign up for one of the many lessons that are available. 
Edmonton Ski Club
Edmonton's expansive river valley offers some convenient skiing options if you don't feel like driving to the mountains. The Edmonton Ski Club has five different hills suited for different levels of skiers, along with a variety of lessons and programs! Check out their website for more information on lift passes and ski rentals.  
Tobogganing & Sledding
If you want to have some fun in the snow, Edmonton has a number of different locations to go sledding!
Snow Tubing
Don't feel like skiing or snowboarding? Try Snow Tubing at Sunridge and Ski Area and feel the rush! Snow tubes are provided, check out their website to buy your tickets!
Skating
Edmonton has plenty of options for skating whether you want to use an indoor rink or an outdoor rink, including the ever-popular Alberta Legislature, City Hall and Hawrelak Park rinks! Also Edmonton's Victoria Park has a speed skating rink and a Freezeway- a 400m scenic path that takes you through the trees.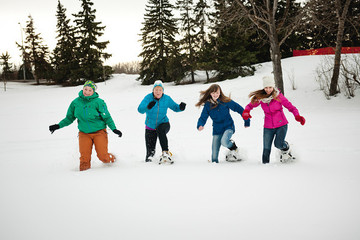 Snowshoeing
There are many parks in Edmonton that are perfect for snowshoeing! Some parks have packed down paths, but you can even snowshoe in spots where there are no trails. Don't want to go alone? Take a snowshoeing tour with River Valley Adventure Co. or simply rent out some snowshoes and go on your own.
Edmonton Ice Castle (January-March)
This year is the first year Edmonton has built a giant ice castle! Buy your tickets and head over to Hawrelak park and walk through the massive castle, slide down the ice slides, venture through the caves and tunnels, and see the spectacular waterfalls!
#YEGsnowfight!
What better way to have fun in the winter than having a massive city-wide snowball fight? There is no set date for this event, all you need to do is text the organizer your number and follow them on Twitter, and they'll let you know more when the time comes. You never know when the excitement will begin!  
Fall & Winter Festivals
The fun doesn't end here! Edmonton hosts a variety of Spring & Summer Festivals throughout the year that are sure to attract your attention! Check out our Festivals webpage for more information on festivals held throughout the entire year!
Year Round Activities
In addition to these great Fall and Winter activities, Edmonton has things you can do anytime of year! Check out the Year Round Activities webpage for more great ideas!
Back to Top