Apartments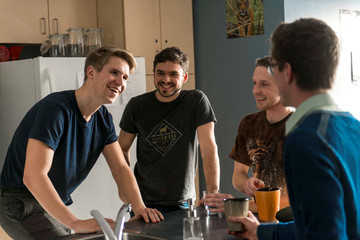 The Apartments are across the street from the main campus and are intended for second, third, and fourth year-students as well as mature students (age +21). This style of residence combines both independent and communal living, making it a popular choice among students. There is space for 103 students in the Apartments.
Apartment Details
Each Apartment consists of:
Six fully furnished, private bedrooms
Two en-suite bathrooms
Fully equipped kitchen
Spacious living and dining area
Free Wi-Fi
Phone
Laundry facilities (located on each floor)
Apartment residents are not required to purchase a pre-paid food plan; however, apartment residents have the option of purchasing a self-selected food plan or a full food plan. With the self-selected food plan, the resident alternates between cooking independently and having meals at Choices Café by adding a self-selected amount of funds to their Student ID Card. With the full food plan, the resident has all their meals at the Choices Café. See below for more information.
Fees
2017-2018 costs
Individual room: $3,950/year.
Residence deposit
A $500 Residence Deposit(non-refundable) is required to complete your Residence Application. This deposit can be paid through any of the methods listed here.
Pre-paid food plan
Basic: $3,544/year.
Limited: $3,090/year.
Self-selected amount: $75 increments.
Unused money transfers from the Fall semester to the Winter semester; however, at the end of the academic year, unspent money will not be refunded to the student.