Christmas Appeal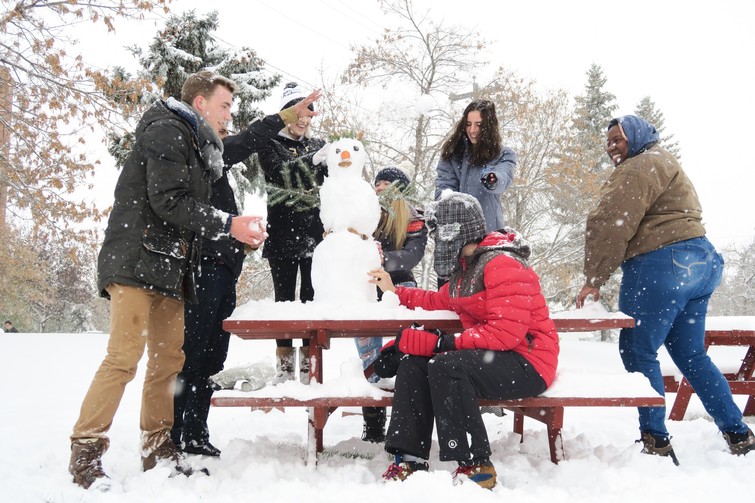 Melanie Humphreys, President
I can't help but think about Joseph and Mary's journey to Bethlehem. They could hardly know the joy, sorrow, and wonder that was in store for them as they traveled all those centuries ago. They got to Bethlehem and Jesus was born. He was the Saviour of the world, but to do that, He had to die. It was such sorrow for those who knew him then.

Dark moments, lost hope.
The story of Jesus did not end there. He rose again to bring light and new hope. We might not always feel hopeful, especially today with widespread anxiety about the economy, global issues, and many other concerns. But we know Christ is greater.
This time of year can create a mixture of joy and sadness. Maybe this year was a wonderful one for you. Maybe it was difficult. I pray that either way you know where your joy comes from and where your hope lies as you journey. Knowing the challenges which we all face in this world, I am so thankful that King's is here today, begun so many years ago by Christian founders who knew the hope of Jesus story.
We teach hope.
King's has had challenges throughout its journey, but it is so rewarding to be part of this community! God has richly blessed King's this year, and we eagerly anticipate the emerging promises that God has for The King's University in the new year.
You have been an instrument in making this happen through your gifts to King's. We experienced record student enrolment this year, and we're thankful to God for the blessing of more students desiring to study at King's.

You helped with that.
Another blessing I experienced was watching hundreds of King's students graduate and join our many alumni who are serving as leaders around the world. From local churches and schools, to businesses, government offices, and aid organizations, King's alumni are actively involved in our vision.

You help with that.
Since you might not have a chance to visit King's often, I need to tell you the richness this university offers our students, beyond our outstanding Christian education. We belong to a vibrant campus with unrivaled opportunities for undergraduate research. We have a flourishing community where meaningful relationships encourage Christian community. This is foundational to the King's experience.
Moving into the New Year and beyond, we envision expanding our programs, increasing the breadth of student services, and growing student enrolment so we can continue to impact the world in the many ways God calls us. We have exciting dreams to help build a more humane, just, and sustainable world.

And you can help with that.
We invite you to partner with us in fostering current and future possibilities by supporting us with sustaining gifts to our Stewardship Fund. Will you make your gift today? Your gifts help all of us at King's bring glory to God in the highest.
Wishing you a joyful and peaceful Christmas season filled with hope in whatever journey you are on,
- Melanie
Cheques can be made payable and mailed to:
The King's University
9125 50 Street NW, Edmonton, AB T6B 2H3