King's needs more trees, and we need your help!

Trees are a sign of life. They mark the seasons. They provide shade, shelter, and beauty. Trees improve our air, our environment, and our physical and mental health.
With your support, King's Trees for Tomorrow campaign will raise enough money to plant more than 160 trees on campus and develop a native prairie grasses reserve.
Together we will:
Beautify campus for years to come, ensuring King's is seen as a special destination on the east side of Edmonton.
Enhance our property so it reflects King's commitment to sustainability.
Improve student mental health and wellness by creating more naturalized spaces.


Be a part of this special initiative. Together we will create a lasting difference for students at The King's University.


NORTH PROPERTY PROPOSAL
---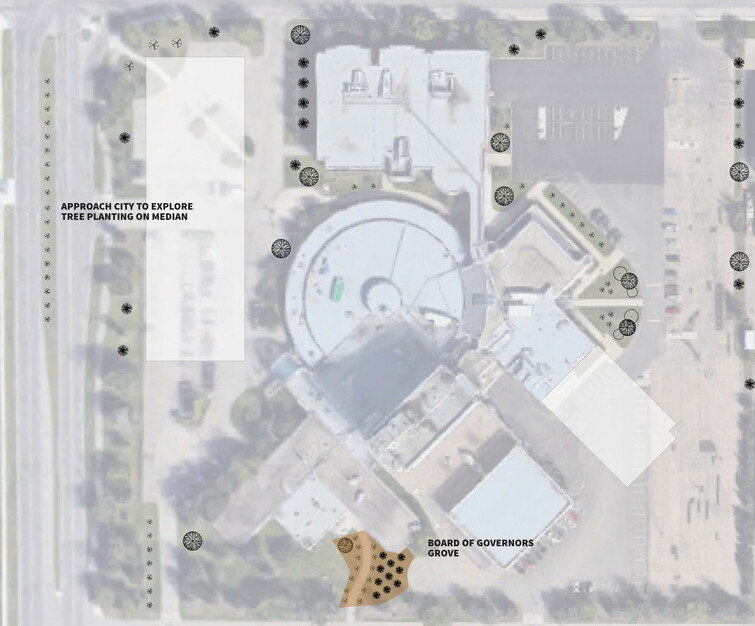 Large Architectural Trees: A number of large deciduous trees (15ft plus) in addition to smaller plantings will provide immediate relief to the overall look and appearance of campus. These trees will vastly enhance perceptions about professionalism, provide stability to key entrances and exits, and improve first impressions about King's.
Board of Governors Grove: A grove of small decorative pines will provide definition to the picnic and bonfire site outside of the Level Coffee House. The grove will section off student green space from the nearby parking lot and form the beginnings of a future campus quad.
Landscaping around Knoppers Hall and Back Path: King's rear entrances are our front entrances for many commuting students and campus visitors - especially guests of Knoppers Performance Hall and the drama theatre. This plan will improve these critical approaches to campus.
Tree Planting on Median: With support from the City of Edmonton, King's hopes to see trees planted along the medians on 50 Street. This will provide a needed green touch that will improve sight lines for all and establish the university as an important landmark on the east side of the city.
Enhance Existing Canopy: Additional tree infill will close gaps in King's existing campus canopy, ensuring an enhanced sense of 'campus' that stands out from the surrounding industrial neighborhood — improving student sense of welcome and belonging on campus.

SOUTH PROPERTY PROPOSAL
---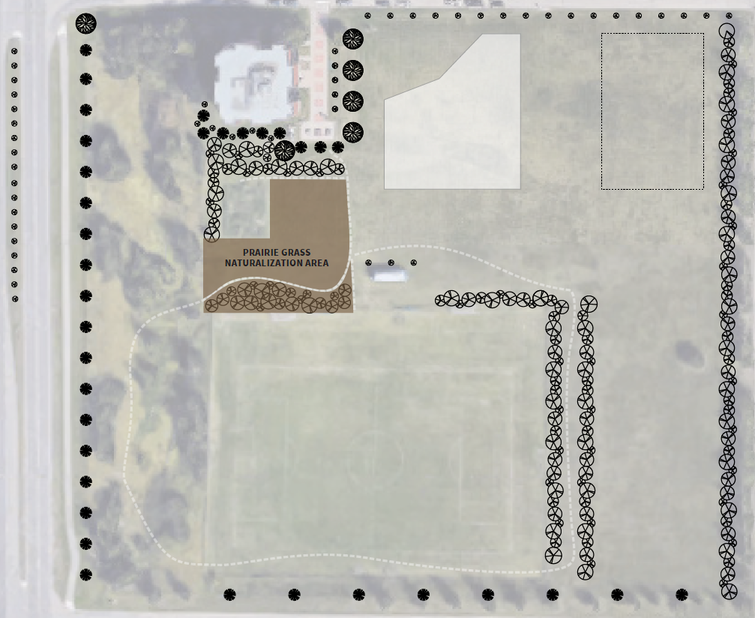 Swale Naturalization Enhancement: In conjunction with King's biology department and the City of Edmonton's Roots for Trees project, native vegetation and tree species will be planted along the exterior of the existing campus swale to enlarge and enhance this existing naturalized space.
Prairie Grasslands Restoration: Connecting to the swale and bordering the community garden to the north, a naturalized prairie tall grasses restoration project will be slowly phased in over a number of years with sod and seed mixes imported from elsewhere on the Canadian prairies.
Soccer Field Perimeter: The Eagles soccer pitch will be enclosed with tree saplings that, once mature, will provide stability to this space, enhance sight lines, and provide some shelter from the wind.
Multi-use Trail (additional funding required): Newly greened campus spaces including the campus quad, Board of Governors grove, prairie grasslands restoration, and swale will be connected by a mixed-use trail loop that will enhance student wellness and community use of campus green spaces.