1st Annual Volunteer Day: August 15, 2020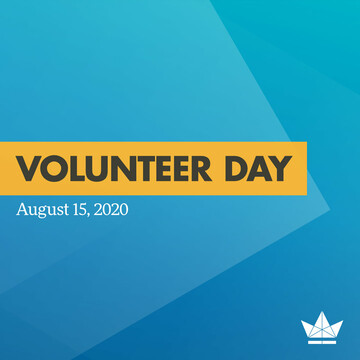 Join us for a new opportunity to serve and make a difference at The King's University. This August 15, let's refresh and improve campus to ensure it looks and feels great for students this fall.
Volunteer Day is an awesome opportunity to get involved. With a group of 75-100 social-distanced volunteers spread out across King's campus and grounds, we will be able to tackle numerous updates, enhancements, and seasonal maintenance items. Your gifts of time, energy, and service on Volunteer Day will also help to ensure that other resources can be invested in advancing King's in other ways.
Volunteers have been the driving force behind King's since before it was founded in 1979, and in the 41 years that have followed, the energy of our community has propelled the university forward as it grows into its mission of providing education that inspires and equips students. Let's capture some of that founding spirit and work together to advance Edmonton's Christian University.
We're looking for volunteers to assist with:
Parking lot line painting and stenciling
Updating paint colour on select bike racks, door ways, rails, and more.
Staining Community Garden fence
Pressure washing
Tree pruning and branch removal
Planter refurbishment and updates
Garden bed cleaning
Lawns and grounds maintenance
We're looking for qualified trades people such as:
Electricians
Plumbers
Carpenters
Professional Painters
Arbourists / horticulturalists
Volunteer Day, August 15 from 9:00 AM–4:30 PM at The King's University
Lunch, coffee/tea, and refreshments will be provided with COVID-19 safety measures in place.
Please consider bringing a mask, work gloves, and any equipment you own and which you think may be helpful to complete the tasks you sign up for below. Additional tools and equipment will be available.